Soured Chocolate Cupcakes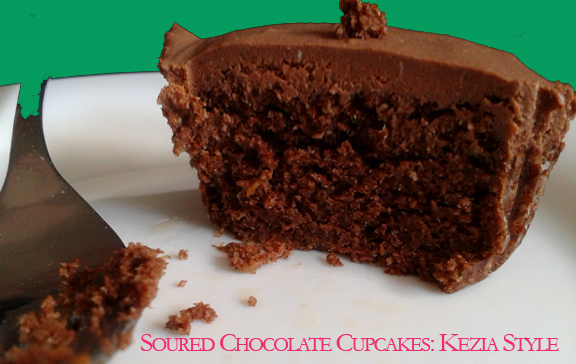 So after all this meat chat I thought that to bring some balance and equilibrium to this wee blog I should discuss cake again.
Baking for me is a pure joy, creative pursuit and with all the happenings of life I find sweet solstice in standing in the kitchen with some mixing bowls, my magi-mix and an oven. These cakes came out of my desire to make something nut free and vegetable based but still tasted lovely and look decent . As you will notice as time goes on I am a very function baker, I definitely lean towards the rustic and homemade end of bakery beauty – I have yet to conquer real food frosting grandeur.

These little wonders contain:
Courgette: It creates a great moist cake, is cheap, contains omega 3 fatty acids and vitamin A and C.
Coconut Oil: I love this stuff. Its a saturated fat that is stable to cook with and won't morph into something harmful when heated, and has many antibacterial, antifungal and metabolism boosting qualities.
Homemade sour cream/yogurt: Yes I managed to squeeze probiotics into the cake – see here for why.
Eggs: A brilliant binder and protein provider – oh I am getting lyrical!
Enjoy with a cup herbal tea or my coffee recipe
*Want to make Soured Cream – just look at this post and make it the same 'whey' (get it?) you would kefir but with cream instead of milk.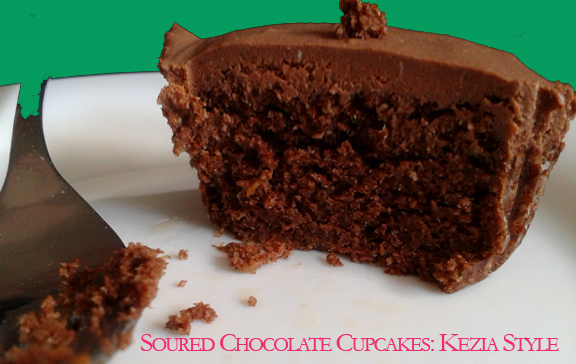 Soured Chocolate Cupcakes: Kezia Style
A chocolate cup cake with a soured creamy chocolate frosting - with a special ingredient!
Ingredients
Cake

2

Cup

coconut flour

3

Organic Eggs

4-5

tbspn cocoa powder

2

cups

Grated Courgette

approximately 1 courgette

1/2

cup

Coconut oil

4-6

tbspn Honey

personal preference - I use about 4 but use more if you like sweet things

Drop of Vanilla Essence

Frosting

3

tbspn Coconut Oil

3

tbspn Cocoa Powder

1

cup

of Soured Cream or thick Homemade Yogurt

Drop of Vanilla Essence

Honey to taste
Instructions
Preheat oven to 140c (fan assisted)

Grate the courgette and then place in food processor and blend until smooth.

Whisk eggs in bowl until fluffy.

Add the remaining ingredients and courgette to eggs and gently mix in, try not to over mix.

Place about 1 heaped tbsp of mixture into cupcake cases in a muffin tray- you want room for a smooth frosting on top.

Cook for 15 minutes or until then bounce back in the middle or when skewer comes out clean.

Leave to cool completely.

Blender all the frosting ingredients until smooth. This is a runny mixture that will harden in the fridge so spoon over cake to until the cupcake case is 'full'.

Place and stored cakes in fridge as the frosting will become harder.

Best eaten fresh but I ate a 4 day old one today and it was still tasty!
Notes
Great to make in batches and store in freezer.
This would also work as a large cake but require a longer cooking time - approximately an hour.
e!
---