Why Salt is Good for You
The more I look into hormone health the more I realised that it is connected to pretty much everything. So today I am going to share with you more about salt, why I am in no way salt phobic but use it liberally in all my homemade foods and why its a key part of my journey to happy hormones.
Grab yourself a cuppa and click play.

(Please note I am not a medical profession but come at this from a holistic nutritional view point please discuss any changes with your doctor. I am also no scientist and bad at reading so probably pronounce many of the words very wrong (apologise to all scientists) but hopefully you will get the gist!)
Here is a quick snap shot of what I say in the video so why not post it on facebook or pinterest so you and all your buddies can be super naturally salty together!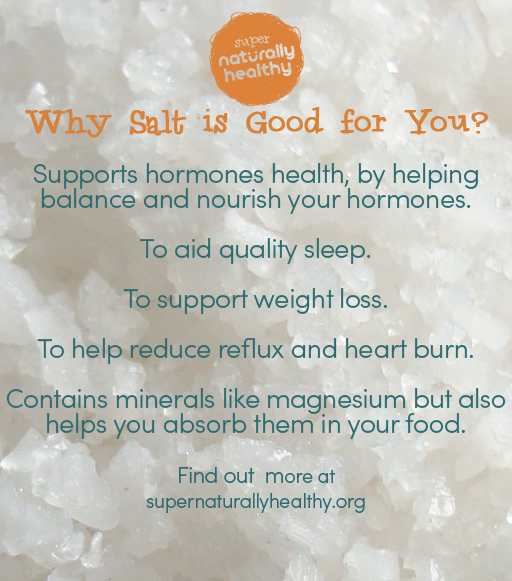 Do you add salt to your food? Or are your strictly no sodium ? Let me know your thoughts in the comments below!
Sources and further reading:
Salt, energy, metabolic rate, and longevity – article by Ray Peat
12 reasons salt is good for you – blog post by awesome blogger
Sodium Intake and Mortality Study
---