Sweet Potato 'Scones' – Gluten, Grain, Egg, Nut, Dairy Free!
You know I love a challenge when it come to baking tasty food that can suit all dietary requirements. To me there is nothing worse in life than not eating cake so no matter how many restrictions I (or you) may have in order to heal and thrive, there always needs to be cake. Ideally every day, at 11am and 4 pm.
Everyday?You bet ya! I love to make cakes and treats that are suitable for regular use. A few week ago I tried the Auto Immune Paleo Protocol for about 13 days which is egg, nut, grain, dairy, sugar, nightshade free. It was my most restrictive eating plan that I have joyfully chosen to follow to date as I wanted to see if I was reacting to food like egg, cocoa, nuts etc (which it turns out I was slightly but that's another blog post) but I really wanted to have something autumnal and comforting amidst the grim weather. Hence these sweet potato beauties.
I LOVE sweet potato as they are such a tasty way of getting more carbohydrate into your system along with other nutrients. They also so this season are they not? So after some experimenting I create these scones, bun, like treats that are the perfect accompaniment to a cup of tea. They need to be cooked for a while on a low heat to dry them out but this makes then crispy on the outside and doughy in the middle – my favourite combination. Again they contain Organic Coconut Flour
, my new favourite cooking flour, as you use hardly use any and it so good for you and naturally gluten/grain free. Win.
So whether you are on a restrictive diet or just fancy some a scone whilst getting one of your five a day (miracles are possible!!) then make up a batch of these and enjoy with coconut cream (or normal organic cream if dairy and you are friends) and some homemade jam or compote (I have been eating mine with this black berry sauce).
Also in other exciting news I have put up yet another free resource for you on my freebies page! Not only are there meal plans, weight loss guide and an awesome manifesto there is also now a free coaching call I did just for you on how to eat healthy on a budget.
Just click here to get you hands on it!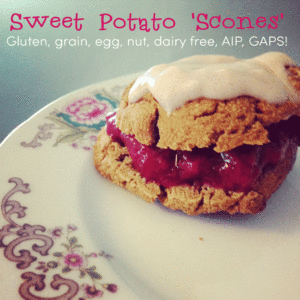 Sweet Potato Scones
A grain, gluten, nut, dairy, sugar, egg free scones - AIP, GAPS, SCD & Paleo friendly.
Ingredients
500

g

cooked sweet potato

5

tbsp

coconut flour

1.5

tbsp

cinnamon

1.5

tbsp

ginger

ground

pinch

salt

tbsp

arrow root powder

1-2

tbsp

honey

according to taste

3

tbsp

scoops of coconut oil melted/liquid

25

ml

warm water - if required

GLAZE - optional

2

tbsp

scoop of coconut oil

2

tbsp

honey

1/2

tsp

cinnamon

pinch

salt
Instructions
Pre heat oven to 160c and line a tray with grease proof paper.

Place the potato in a food processor and add the spices, salt and blend until smooth.

Whilst running add the melted coconut oil, and other ingredients. If your variety of coconut flour dries out the mixture too much then add the warm water. In most cases this will not be required, but different brands of coconut flour vary in absorbency.

The mixture will still be quite wet, but grab a small handful and shape into a scone like shape - these will not rise in the oven so they will stay at whatever shape you put them in the oven as. You want to keep them relatively small to prevent then from being to doughy.

Place them on the tray and place in oven.

After about 45 mins in oven cover the scones with a sheet of foil to prevent them from catching and cook until they are firm and solid looking, but cook them for at least 1 hour.

To glaze melt all the ingredients on a double boiler and then remove from heat and whisk until it thickens and combines more, this will take 5-10 mins or so.

Then drizzle over the cool scones and leave to set in fridge.
Notes
For the glaze lemon also works wonderfully as would maple or ginger:)
How do you have your scones? Whats your favourite cake recipe with vegetables in?
---