The Flourish eCourse Uncovered: After two weeks how is Rachel getting on???
Remember Rachel story from a few weeks ago? We were introduced to this lovely lady just as she embarked on the Flourish eCourse journey so if you need to catch up them just click here others lets see how she is getting on in creating one deliciously healthy LIFE!
<<<And did you know Rachel began her journey with The 10 Day Green Smoothie Challenge? So if you are skeptical about online courses, or the impact that eating natural real food can actually have on your body or just want to feel better in just ten days then get yourself signed up NOW. It starts tomorrow so you have until 12pm on Friday 22nd May to sign up. And like all my products, if it doesn't meet your expectations then you can get your fiver back;) >>>>
So onto Rachel….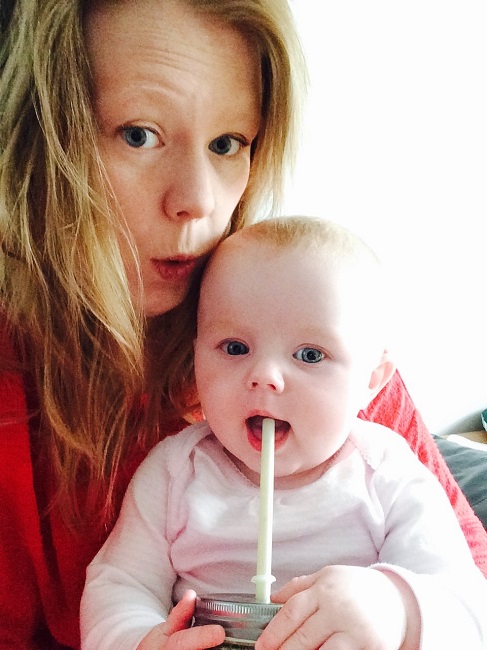 I'm back! It's halfway through so time to tell you lovely people how I'm getting on.
So far the first few weeks have been really good, albeit a bit interrupted. Monday-Thursday I've found pretty easy, getting into my groove on Monday morning with a good smoothie and pushchair workout and then keeping it going until Thursday night. But with a few busy weekends and the bank holiday I'm afraid Friday-Sundays have felt a lot more made-up-as-I-went-along. Certainly being a wedding guest (for 3 days!) meant that things were a lot less in my control but I did tweak and maintain my better habits where I could and made a conscientious effort not to let those I couldn't influence bother me. I did end week 2/start week 3 feeling quite drained which I put down to being so busy and a few nights of interrupted sleep as my daughter is teething. But I kept going with the breakfast smoothies and after some veg-filled meals I was back to feeling myself pretty quickly, albeit still a bit snoozy!
Since starting Flourish I've certainly made a few changes to my diet that have been small and but significant. The main changes I have made have been with the level of veg in my meals and staying off the caffeine – I even managed the whole wedding weekend without a caffeine hit!
I've never been a coffee drinker but I did drink tea by the gallon. I've replaced my green tea habit with herbal teas and have been experimenting with different infusions – my new favourite is Yogi Tea's Choco tea – cocoa shells, liquorice and cinnamon with a dash of almond milk, scrummy!! And as for the level of veg I've always tried to have a good amount of veg in our main evening meal but didn't always succeed. Now I'm consciously trying to double it and do that across all our meals – we're positively bursting with vitamins these days!
Some of my favourites have included an apple and feta salad and more courgetti (still obsessed) this time with chicken and a homemade satay sauce. I've also been experimenting with baby friendly dishes I can make for all the family, and starting with breakfast I had quinoa porridge with strawberries and banana and a mug of ginger tea. While my daughter wasn't convinced by the quinoa I loved it and it'll definitely be on the menu again.
Apple and Feta Salad – A great new combo!
Cougetti with Chiken and a thai-style dressing and a satay sauce.
Quinoa Porridge with Almond Milk, Strawberries, Banana & a Ginger Tea.
Coming up with meals suitable for all the family has been a fun challenge and we've realised that by experimenting a bit more we're eating better with barely any more preparation and it's all tasting so much nicer. The biggest highlight though has been seeing how my actions are influencing my husband and how we are thinking about weaning our daughter. My OH (other half) is certainly enjoying the freshness and the range of what we're eating (even the carb and meat free ones!) but although the cooking has been fun there have been moments where coming up with something out of the random bits left in the fridge hasn't been what I've wanted to do. Not feeling great, a grumpy baby and tiredness has certainly led to some tough moments where my default has been to reach for 'the easy option'. But more and more I'm realising that it isn't digging out a takeaway menu and bottle of wine.
I now know that if I put in the effort now at some point these habits will be automatic and that's usually enough to get me reaching for something that won't make me feel like poo the next day! That I even had those thoughts, without much prompting, really has made me realise how I'm seeing food, and the level of control I have over it, differently. It sounds daft but more and more I'm aware that my choices really are mine to make!
My final celebratory moment has been making it out of the house and going for a run, outside! Before falling pregnant I was a reasonably regular gym goer and so it has been probably 2 years since I went on a treadmill-free run. I came back hot, knackered and bright red but no-one stared, pointed, laughed or even noticed me. As I walked through the front door I was absolutely buzzing and it stayed with me all day. And when there was a teeny tiny hill and I wasn't sure I had it in me I just told myself this: Why are you fit and why are you healthy? Because you're in charge and you deserve to be. I've never been one for affirmations before Flourish but without realising it my mind came out with that on repeat and I made it to the top of the hill and around the corner. Knowing this, and that I can teach it to my daughter, is inspiring, humbling and super-exciting!
I made it out running (And realised I should consider a spray-tan for the summer).
And results? Well this week I'm celebrating two people I know from Baby groups coming over to tell me they think I look slimmer and lovely! Totally out of the blue and was just such a boost:)
So Kezia has also asked me to answer a couple of questions so here goes:
What would you rather have – cheese or chocolate fondue?
The pedant in me wants to ask what I've got to dunk in the fondue but that's because it's a tough call. I think I'd have to go with cheese as it's a bit more versatile and I could dunk carbs as well as veg and fruit. Although the more I think of it a grape dunked in cheese fondue might not be the revelation I first imagined!!
What 2 tips for anyone who is wanting to start getting healthy who is short of time?
Firstly, prepare yourself to make just small little adjustments – take an apple or a pot of nuts rather than the pack of breakfast biscuits or crisps. Just having them to hand will get you feeling virtuous and that feeling is infectious.
My second tip would be YouTube – via fellow Flourish-ees I'm realising what a great resource YouTube can be. Be it a 10 minute work-out you can do on your living room floor, or a guided mediation to commute to, it's all on there. These things might take a little bit of effort to get you going, but once you're rolling it'll easily come naturally.
What has made me laugh recently?
Simple one – My daughter's favourite toy this weekend was an empty tissue box. It was a drum, a teething ring and a hat and watching how funny she found it was brilliant. As are the photos!
It's hard to believe I'm only halfway through – it's gone quickly but some of the habits really are engrained already and the shift in my mental attitude is so noticeable. I'll see you in a few weeks to let you know how the second half goes!
Thanks Rachel – what an amazing woman:)
<<<<The next Flourish eCourse starts on Friday 5th June – click here to find out more and sign up!>>>>
---