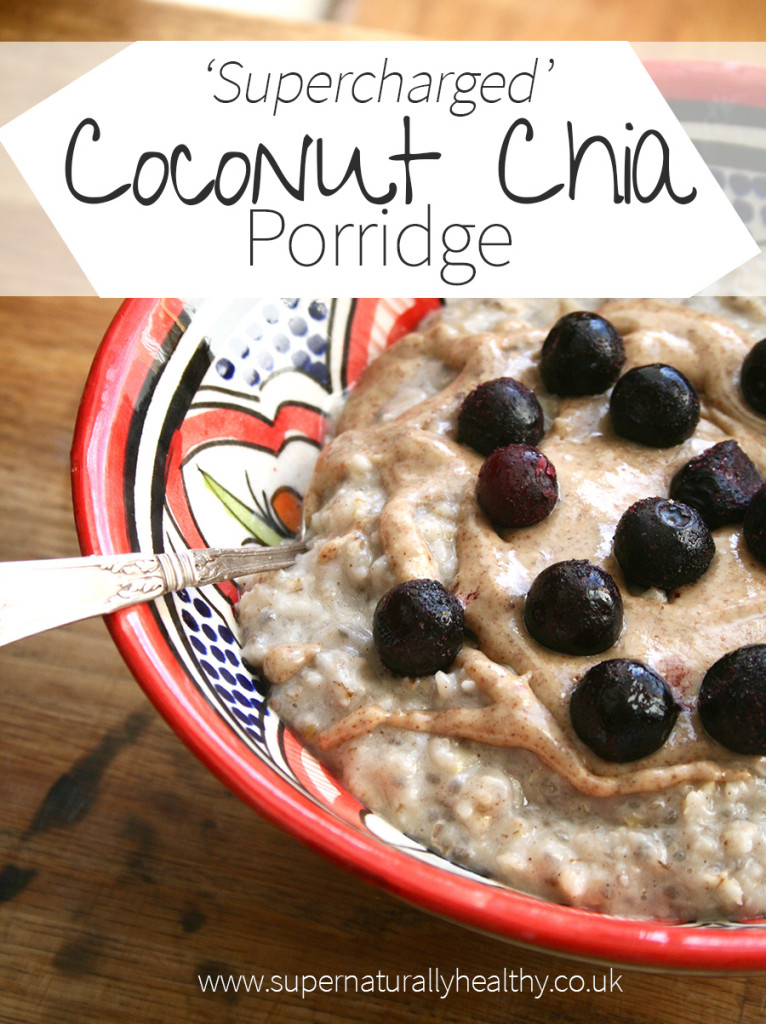 One of the tips I give my Flourishee's and one2one clients all the time is about setting yourself up for success every day with your breakfast.
Now you know I am a green smoothie fan (if you don't then check this out) but sometimes even I don't always fancy a green smoothie for breakfast – I am partial to them as afternoon snacks or even a speedy lunch! Sometimes I want something warm, stodgy and awesome first thing.
So hello Supercharged Coconut Chia Porridge! It's gluten and dairy free and oh so awesome for your body.
In the past I shared my instant grain free, paleo, GAPS friendly, porridge recipe (check it out here) but after about 2 years of being grain free in order to heal my digestion and IBS I have been experimenting with introducing some gluten free grains and so far my body likes it. HOORAY!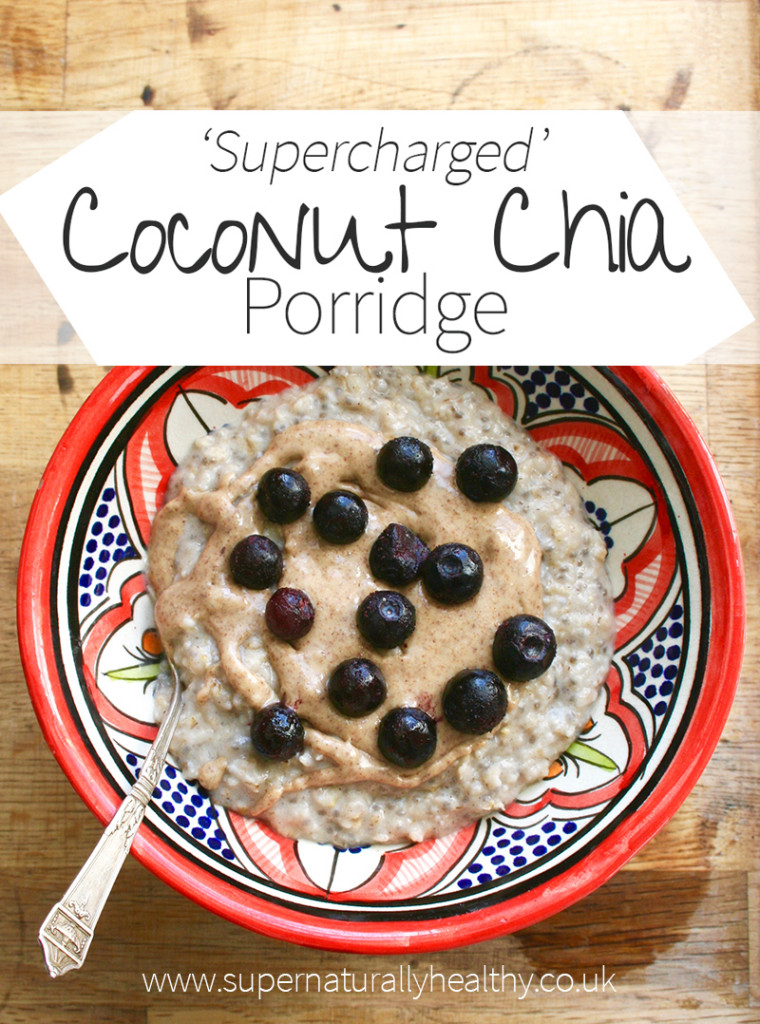 Plus I have always been totally obsessed with oats.
Oatcakes, flapjacks, granola you name it if it has oats I will eat it (how patriotic of me!). In fact, I once did the West Highland Way, a 96 mile walk up west of Scotland which I highly recommend, and naturally I was in charge of food supplies. Well my beautiful friend swore off of oats for about a year after that trip as my entire sustenance program was based on flapjacks, porridge and oatcakes…this was pre-health coaching days so don't judge me!
BUT starting your day with carbs alone is not always a great plan. In fact, it can lead to you being hungry by 10am and contribute to disrupted blood sugars. Mainly because we have been trained to make porridge with water or skimmed milk which is not a great idea.
As a student I always started my day with porridge but always found that it never filled me up and just left me sleepy and sluggish. This was because I was missing out fats and protein!
So this is one supercharged porridge because it will keep you full for ages, is full of proteins and fats like omega 3's (from chia seeds which my body LOVES!) and is super speedy to make.
Au reviour 10 am hunger pangs and hello happy blood sugar!
Coconut Chia Porridge
A speedy supercharged porridge to help you start your day.
Ingredients
100

g

gluten free oats

1

tbsp

chia seeds

200

ml

coconut milk

or other milk

1/8

tsp

vanilla powder

1/2

tsp

cinnamon

a pinch salt

TOPPING

topped with almond or peanut butter and berries/banana slices
Instructions
Optional - the night before soak the oats and chia seeds in about 3-500ml water with a pinch of salt in it, drain water before cooking. This makes it more digestible and the nutrients more available.

When ready to eat place all the ingredients in a pan (or microwave) and heat up on medium heat for about 2-3 minutes.

Add more water or milk for a runnier porridge or things like honey to make it sweeter.