Victoria's Story: Learning How to Flourish!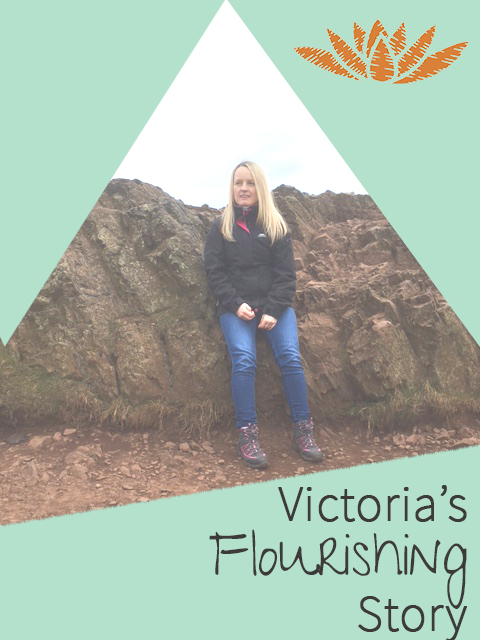 Today we have Victoria joining us and sharing with us all her amazing Flourishing story.
I love sharing these stories with you because I want you to be utterly convinved that you CAN get healthier.
You CAN change your habits.
You CAN feel better without turning into a crazy health geek like me.
You CAN Flourish.
That may or may not mean you join my Flourish eCourse (it currently has 50% off by the way!!). I want you to know that that is alwasy HOPE and always change available to you when your ready to take ownership of your health, body and sexy self 😉
So let's hand over to Victoria who signed up to Flourish not neccessary to lose tons of weight like other peeps who have blogged but to get help in creating that healthy life.


I've always tried to be relatively healthy and active, particularly so in recent years. I joined a gym a couple of years ago and have really enjoyed getting into more regular and varied exercise. I've seen benefits in my fitness and strength levels bit also how I feel – exercise is a great release after a busy or stressful day (especially kickboxing!)
However, I was very much stick in a food rut and felt that I wanted to be more informed about what I was putting into my body. I was making what I thought were healthy choices (and some were) but was really look for more guidance. But I wasn't interested in an extreme or fad diet or something I might do for a while but not sustain.
I found the Super Naturally Healthy page on Facebook and noticed that a friend of mine had liked the page. I later discovered that she had completed the Flourish course and when the chance to join came up earlier this year. I decided to give it a go.
I have to be honest, I was slightly hesitant at first about doing it. I was worried that I wouldn't carry it through to a 'high enough standard' and if I'm honest, what people would think of me for doing it. But I decided to commit to the six weeks and see what happened.
Despite Kezia's very warm, welcoming and reassuring style (her energy and encouragement are genuine and such a boost), I initially felt a bit overwhelmed when I started the course. There seemed to be a lot of information and changes you could make. However, very early on Kezia stressed that this was a journey and encouraged you to take small, manageable and sustainable steps. So I fought against my natural instinct to try and do it all 'perfectly', opting to take her advice instead. (Yay well done Victoria!)
Prawn stir fry is a fav!
That's one bonus I wasn't expecting – the encouragement to give myself a break more. Flourish has helped me to see the value of investing in all of myself including areas other than food – thoughts, emotions, activities etc. – taking care of myself more generally and having fun doing so. I wouldn't say I've cracked it yet (by any means!) but I am changing how I think. I'm giving myself permission not to have to 'get it right' all of the time. It seems odd to think that a course like this would teach you more about balance and letting yourself off the hook but it really has.
I found meal planning a bit daunting at first (and got myself a bit stressed doing it!) but now I really see the value in it. Planning the week ahead means I buy what I need and it takes some of the thinking out of the week, which makes all the difference after a day's work! The recipes, including the Pinterest page, have been invaluable in getting me out of a food rut. Particular favourites for me are pancakes (so finding healthier versions was a dream), pea and coconut soup and spiralised courgette with pesto. Oh and Medjool dates are firm favourite too (they don't last long in my house).
I feel lighter in myself after doing Flourish and don't get the crashes I used to in between meals. I've seen the benefit of cutting down on caffeine and drinking more herbal teas, as well as lots more water, not least the variety which makes things interesting. I'm enjoying eating less processed food as well.
Another thing I've really valued about Flourish is the sense of community. People interact and encourage one another. Checking in has made me feel a part of things – I've felt accepted and encouraged by seeing how people are with each other. Even if there are those who don't understand your health choices, there is a group of people who do and will cheer you on.
Hooray for healthy pancakes!
I definitely see investing in my health as a journey. I certainly wouldn't say I have it all worked out. I'll remain on the hunt for new meal ideas and ways to improve my health even more. But I do feel I've started in the right direction and I have both greater confidence and belief in the importance of investing in me. I'm glad I took the step to do Flourish and look forward to taking many more….
Thanks Victoira!
So it's time to take action – here are 3 ways you can emulate Victoria's success
Plan your meals! Do it in your own way but do it 😉
Take small sustainable steps – dont allow overhwelm to rule the roost!
Get in community – it is really hard to do this on your own – find a community fo like minded people who will cheer you ON.
---