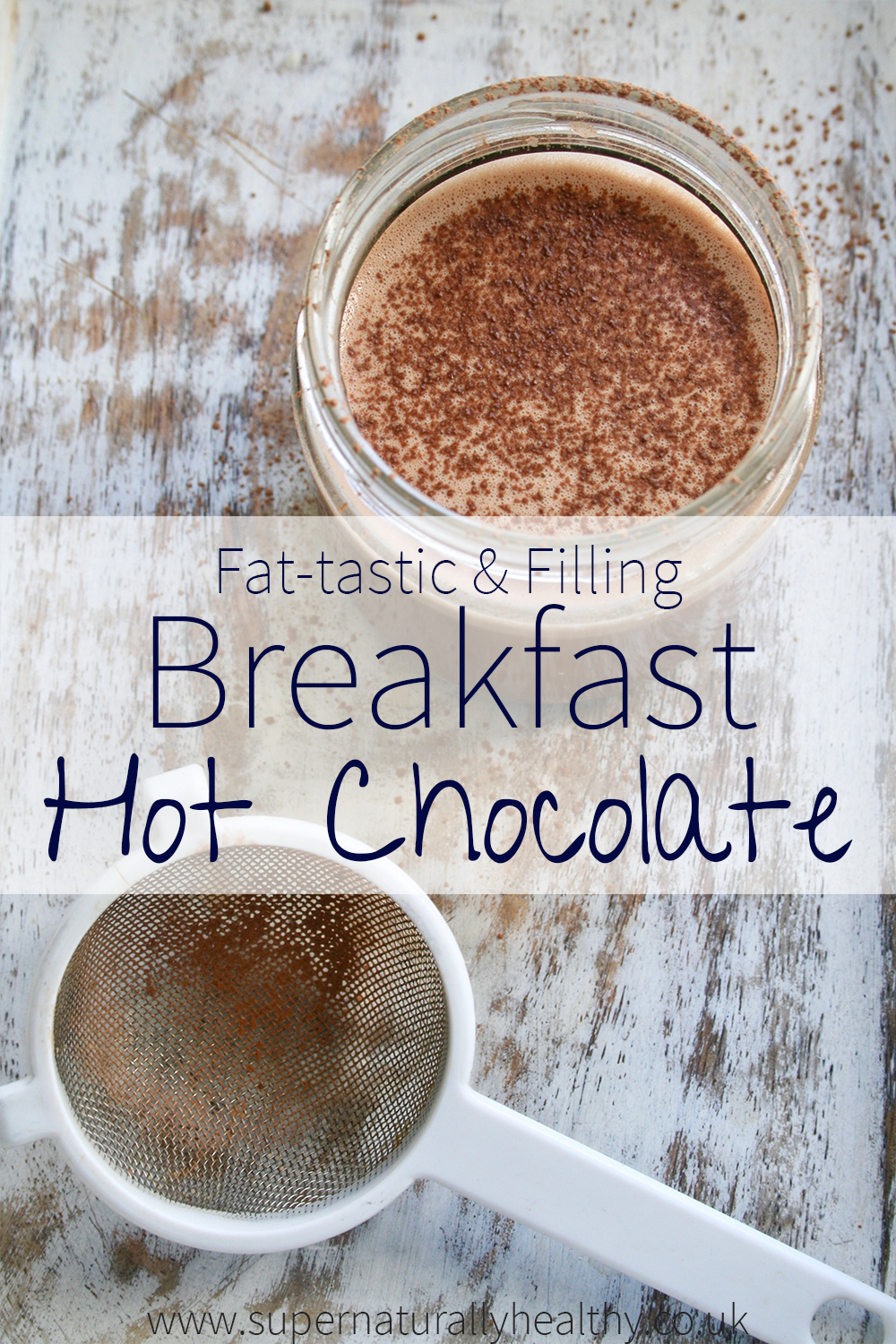 It probably doesn't come as a surprise but I eat some form of chocolate every darn day.
Often in the form of a chocolate green smoothie or homemade chocolate brownies with a cup of tea or in the form of hot chocolate.
And to be honest it is most often in the form of hot chocolate….
Coffee in the morning doesn't sit well with me unless it is organic decaf and I have had a huge breakfast so I often opt for hot cocoa for an energy and magnesium boost. (Magnesium is the BOMB for your body and it is likely that you are deficient – click here to find out why)
This is also a great option for a those of you who can't face breakfast or just simply don't have the time. You can blend this up and it will keep you going for a good while due to the fact that it has lots of quality fats.
Yes FATS. I nearly called this Fatty Fatty Boom Boom Dark Hot Chocolate but alas I have google to take into consideration! It is inspired by the whole bulletproof coffee thing which people often use when intermittent fasting which is not something I do often as it leaves me with less energy, not more…
This would also be fabulous for those of you who are pregnant or lactating or looking to put on some weight or doing some gut healing BUT don't worry you are not going to become the size of a house if you drink this. Quality fats DON'T make you fat unless you binge on them crazy style. I have some form of healthy fat with every meal and at least one of my snacks and it has really helped my hormones and mood to stablise.
Plus you can add some optional 'superfoods' of MCT oil which is fabulous for boosting your metabolism and gelatin that is awesome for gut healthy and natural protein goodness.
And if you want a wee treat to go with this chocolate elixir then grab your copy of The Sweet Treat Collection NOW! A recipe ebook with over 25+ gluten, refined sugar and dairy free treats that you can enjoy every darn day 😉
Becuase cake and chocolate are essential to one Super Naturally Healthy life 😉
So enjoy as a mid-morning dark chocolate break, with breakfast or as a liquid breakfast on the go if you can't stomach anything else. Use whatever sweetener you prefer and double the recipe for 2 people and ENJOY!
Fat-tastic & Filling Breakfast Hot Chocolate
Ingredients
tsp

MCT oil - optional

tsp

gelatin - optional

10

g/knob organic butter

tsp

coconut oil

tsp

raw honey or more to your taste

or stevia, maple syrup, coconut sugar or rice malt syrup

a pinch sea salt

tbsp

organic cocoa

pinch

cinnamon - optional

275-300

ml

boiling water

less water the 'darker' it willl taste
Instructions
Place all the ingredieints in your blender or in a jug and use hand blender.

Blender for 20 sec until smooth.

Drink immediately.
Notes
Feel free to add more or less sweetener.
Omit butter to make it dairy free and feel free to remove MCT or Gelatin.
I sometime add a pinch of chilli too of a bit of a kick!!
More reading?