Eat, Be Merry & Ditch the Christmas Belly!
If you get SUPER excited about the festive season but find you spend most of it feeling
bloated, tired and more like a stuffed turkey

than
a Christmas fairy, then you're in the right place!
Maybe your usual Christmas involves a 'stuff it' mentality that leads to you binging your heart out, promising yourself that come January 'everything will change'.
You

wake up feeling tired with zero energy

for the kids/family/enforce festive walks and can help but dip into that tub of chocolate 5, 10, 25 times a day! And you know it makes you feel like crap but it's like you can't help it!
You stumble into the New Year

feeling like you've failed

. Like you've

lost the plot again with food

, have gained weight, are permanently bloated and sluggish and feel flat.
And it's not just about Christmas,

it impacts your whole year.
Your motivation come January is short-lived because really what's the point? Your sugar cravings are too strong and your will power too weak.
You REALLY want a different relationship with food, with your body. You really want to be a good example of healthy eating and feasting to those around you but it feels impossible so it

better just to hide behind a big baggy Christmas jumper.
But what if things could be different? What if you felt GOOD in your body and in control of your eating this festive season?
I am here to show you how to Eat, Be Merry & Ditch the Christmas Belly.
Your delicious recipe eBook/Festive Survival Guide to ensure you thrive this festive season: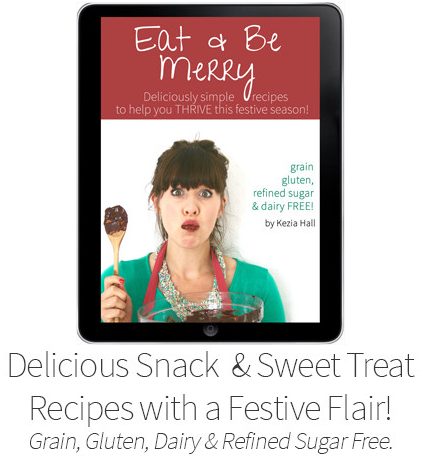 I am a Holistic Nutritionist who works with women who are fed up of feeling bloated and tired.
They're not happy with their weight and are tired of constant digestive issues and knowing what to eat. I create a nutritional and lifestyle plan that helps them fix their digestion and hormones so that they can feel good in their clothes, and get back to living their lives.
And when I am not consulting with clients I create delicious, simple free from recipes women who are fed up with being bloated and tired and are ready to get their energy and belly back!!
'Stay healthy at Christmas – are you for real Kezia?'
Here is my unique strategy to keeping you healthy and merry this Christmas:
1.Sugar-free bliss. We know excess refined sugar is NOT doing any good. That is why I have created delicious festive but naturally sweet (and savoury) treats to help you reduce your sugar intake this holiday WITHOUT deprivation.
2. Ditch the hunger. When you spend the festive season eating too much sugar you actually get MORE hungry. So these recipes are designed to ensure you enjoy a tasty treat that will also keep you full for HOURS!
You need to Eat & Be Merry if you want to…
beat the bloat this festive season
avoid the sugar cravings and afternoon energy dips
avoid that typical half-stone Christmas weight gain
enjoy tasty gluten and sugar-free recipes that everyone will love
sustain your energy over the craziness
need a plan of action for getting back on track in the New Year
What you get
15+ sugar & gluten-free sweet treat recipes – like brownies, truffles, chocolate etc
10+ savoury recipes – simple speedy soup, snack, dips and cracker recipes – perfect for entertaining and lunches
BONUS – The Eat and Be Merry Planner – this is a simple plan of action and contract you can make with yourself to keep you accountable and STOP you bingeing for weeks on end…
And don't worry, these recipes are Super SIMPLE.
You don't need to spend hours in the kitchen to be healthy – these recipes range from just 2 mins to make AND they will keep you full for hours!
Let's get merry!
Ready to boost your energy, ditch the sugar cravings and beat the bloat this Christmas whilst still enjoying your FAVOURITE treats and cake?
Thought so.


That means you get over 45 sugar, gluten-free recipes so that you can boost your energy and delight family and friends this festive season!
Get them both PLUS BONUSES for just £15
What people say about my recipes:




FAQ's
Do I need crazy-ass ingredients and to sprout my own chia seeds?
The aim of this recipe eBook is to be as faff free as possible. As for ingredients, I provide a full list of where you can get them and most of them can be bought at your local supermarket or via amazon in one click – simple!
Do the recipes contain nuts?
Yes, a lot of the recipes contain nuts so it's not ideal for nut allergies (Just peanut allergy? Then you will be fine).
Is it family/spouse friendly?
Yes – well that is if you family and partners like recipes for chocolate, brownies, gummy sweets and cookies. If they don't like the sounds of eating those then I can't help you 😉