Sometimes we want the weekend to last forever.
I love long lazy Saturday mornings and like to picture myself, Jack Johnson style, on Hawaii eating banana pancakes. This weekend however was not a weekend like that as I spent the weekend shooting some footage for a wee film I am making for this health and wellness business of mine, which was so much fun, but I will share more on that later this week, today is all about the glory of pancakes.

(If you want to see the photos from the weekend then check our my album on my facebook page or sign up for my regular emails where I share all the secrets of super natural health and all of the behind the scenes secrets!)
Now normal banana pancakes are filled with flour, gluten and sugar and involve a whole lot of faff. This recipe is super easy and ready to go in about 5 mins. Its protein packed and feels like a total treat but is super good for you. The cinnamon is great for helping you regulate your blood sugar, the banana are jam packed with potassium and eggs, well you know how much I LOVE eggs – natures multi vitamin (when from happy organic chickens).
So if you want to make your weekend stretch into the week then get some Jack Johnson blasting and make a batch of these beauties and pretend its Saturday again…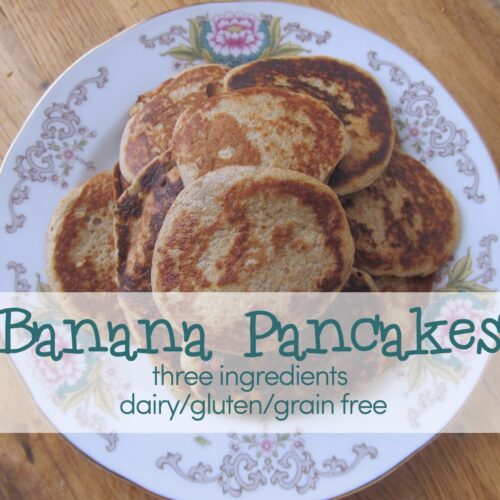 Banana Pancakes
Three ingredient grain/gluten/dairy free pancakes to make every day the weekend!
Ingredients
2

bananas

3

organic eggs

1

tsp

cinnamon
Instructions
Blend all the ingredients until smooth.

Heat a frying pan with come fats (butter, coconut oil or oils) and use a about 2 tbs of mixture per pancake. Make sure the pan is hot and ten once the batter has been poured turn the heat down.

When the pancakes are more solid carefully flip over.

Do this with all the mixture and serve with organic butter/coconut oil, fruit, organic bacon, nut nutter or raw honey!
What is your favourite brunch food? Whats your favourite breakfast?