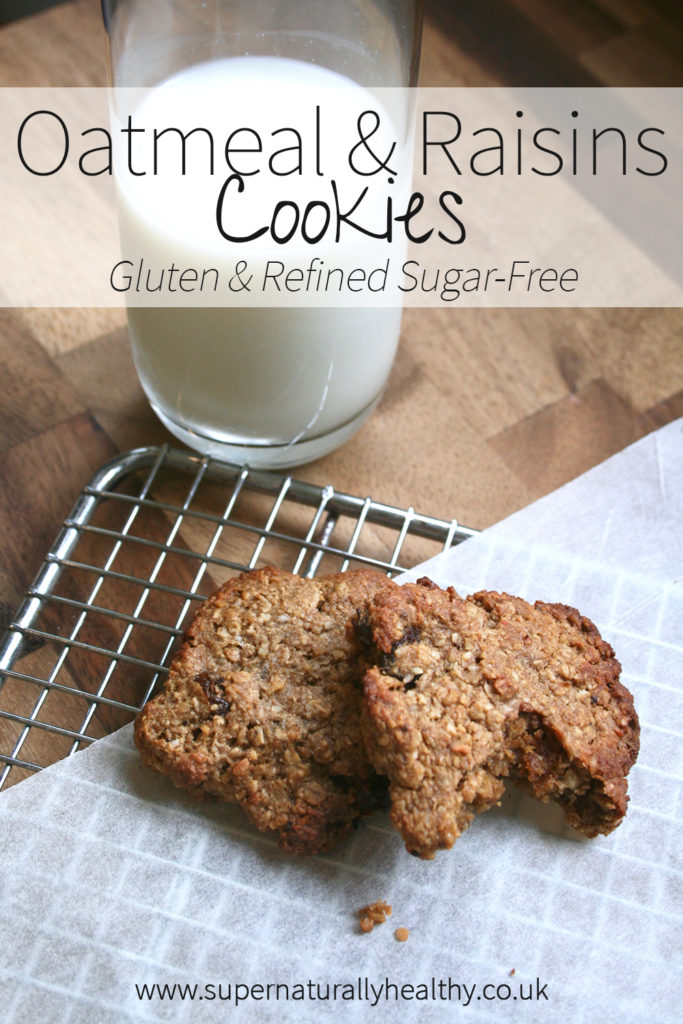 I wouldn't go as far to say that these cookies came from a pregnancy cookie craving – because let's be real I probably crave cookies a lot of the time. I think it came from too much Great British Bake Off re-runs or the new Nailed It show on Netflix (so cheesy and awful but also so good).
But for real I have definitely been craving more carby types things this pregnancy and generally, have been doing a good job at keeping it under control ….and thankfully I have mainly been craving fruit (yes you previously pregnant mamas can hate me now). But on a recent evening when I was feeling particularly nausea and crap – Oatmeal and Raisin Cookies was the exact thing I needed.
Chewy, comforting and, in this case, not full of refined sugars and contained some healthy fats. These are pretty sweet so I wouldn't go so far to say they are a healthy everyday food but when you need a glass of almond milk and a cookie – then these are for you.
(Also I should also mention that these nearly didn't actually make it to the oven at all as the cookie dough is also SO GOOD. When I first made them I simply dipped some 85% dark choc into the dough and ate it that way. Not ideal if you don't eat raw eggs but if like me you do then this is the bomb.com. It was only the next day that I thought I should test that they make awesome cookies too and thankfully they did. But seriously try the whole dark chocolate dough thang….you're welcome.)
These are naturally gluten free when you use the right oats, are packed with some healthy fats from the ghee (I am basically eating my body weight in home-made ghee this pregnancy) and are sweeter with some coconut sugar – a slightly lower glycemic index than refined sugar with more nutrient too.
I suppose these could be called 'lactation cookies' but I feel like that's nonsense really (I mean it just an excuse to eat cookies right?)….but I will definitely have several batches of this dough sitting waiting in my freezer for after baby comes because I feel like they would make the perfect 4am feeding snack?
Ingredients & notes
If you don't want to make your own ghee (cheapest options) you can buy it here. You can also use coconut oil instead of ghee which you can get here or melted butter.
Get vanilla powder here
I invested in a MagiMix 5 years ago and use it for pretty much all my cooking and CANNOT recommend it enough – this is the exact one I have and I use it for making nut butters, instant ice cream, coleslaw, cookies, chopping onions, making marshmallows…..etc

Also feel free to swap in choc chips for raisins as I imagine that would also taste awesome.

Want a lower sugar version? Reduce the sugar or switch to xylitol (get it here) instead as this has less of an impact on your insulin and blood sugar.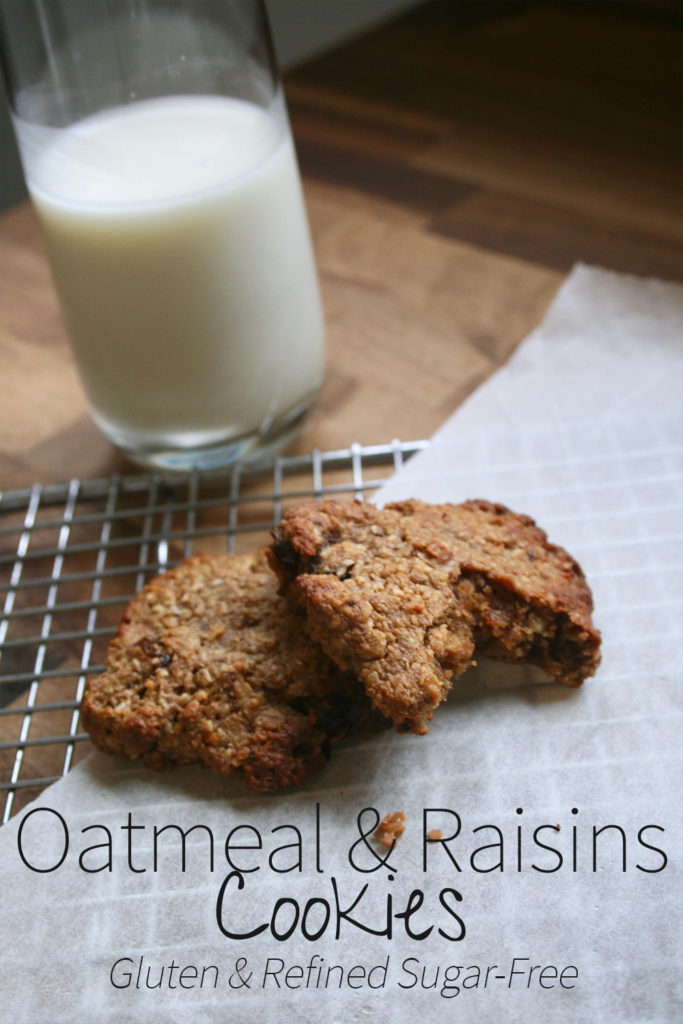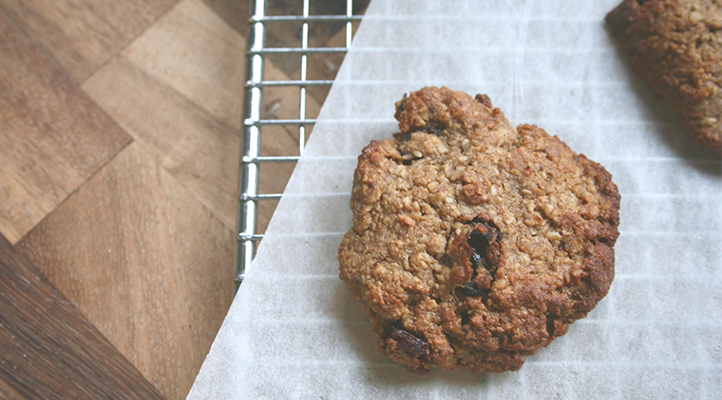 Oatmeal & Raisin Cookies
Gluten free and chewy cookies you can make in a huge batch or one at a time!
Ingredients
3/4

tsp

baking powder

60

g

coconut sugar

20

g

desiccated coconut (no sugar added)

90

g

ground almonds

70

g

gluten free oats

1/2

tsp

vanila extract or powder

1/2

tsp

salt

50

g

raisins

2

tbsp

nut butter

1

egg

4

tbsp

melted ghee

splash

nut/normal milk
Instructions
Mix the oats, almond, coconut, salt, coconut sugar and baking powder in a bowl

Melt a jar of ghee then whisk into the eggs and nut butter - but make sure the ghee is NOT piping hot!

Pour the wet ingredients into the dry ones and mix thoroughly. Add a small splash of milk if its too thick a dough

Place the dough in the fridge for 30-45 mins or over night

To cook scoop a heaped tbsp of the dough and place and shape onto a lined baking tray. You will need to shape and press the cookie flat is it won't spread much

Cook at 170c for 10 mins then increase temperature to 190c and cook for 3 minutes. Use a timer for this!!

 
Let me know if you make the recipe or any questions you have in the comments below!