Chocolate Chia Energy Bars (Paleo, Vegan & Sugar-free!)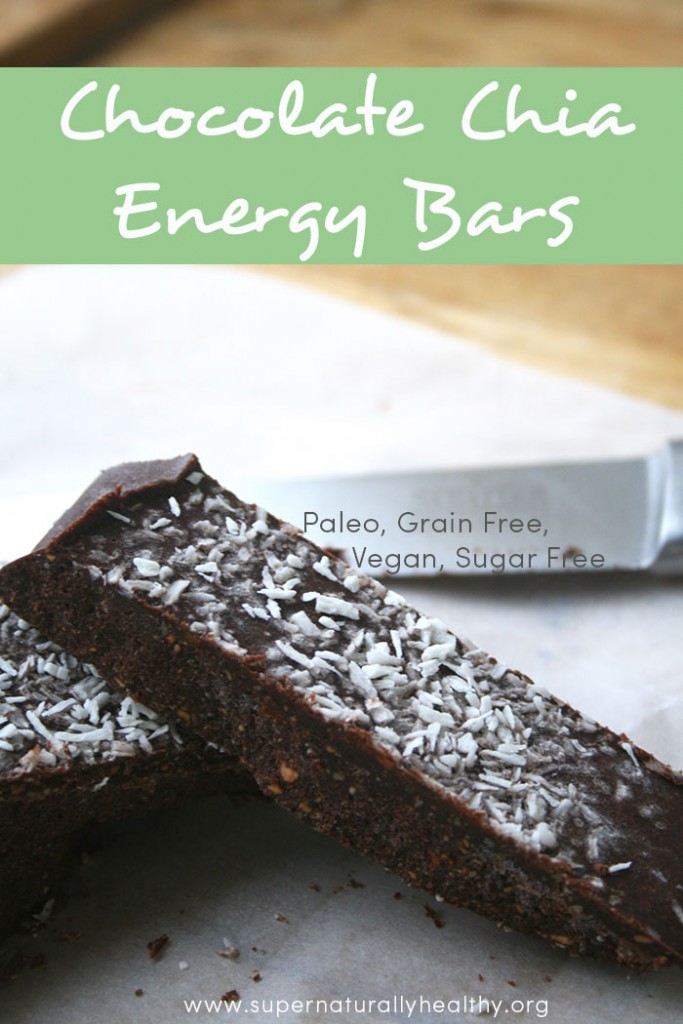 I don't know about you but I am always up for having more energy.
Take this weekend for example. It was my oldest and bestest friends wedding and I decided to throw caution to the wind and stay up until 2am – yes that is 2am people! (For those of you who don't know me I am a total early bird and love nothing more than to get 8 hours sleep a night). So you can imagine that come the wedding breakfast I was in need of some energy!
And because I am getting old my recovering of this lost sleep takes days which is why I found myself making these Chocolate Chia Energy Bars (Paleo, Vegan & SugarFree!) Because behind the scenes at Super Naturally Healthy (aka me on my sofa or desk if I feel fancy) there is much activity taking place.
And if you really struggling with energy then chances are it could be that you are munching on too much refined sugar which will not only be causing havoc to your energy but your mood, waistline and digestion too. so grab my free Natural Sweetener eGuide below with more recipes and guidance on how to create one naturally sweet life!

But back to chocolate.
These rich, dark chocolate and energy dense bars (or squares – cut them how you like!) will keep you going for hours. The are surprisingly filling (so don't be tempted to cut a massive sizes!) and the Chia Seeds
also add an extra crunch to which I really like and they have a whole host of other benefits too:
The word chia is ancient Mayan is word used for strength so despite their tiny size they are very nutrient dense, 28grams of chia gives you:
Fiber: 11 grams.
Protein: 4 grams.
Fat: 9 grams (5 of which are Omega-3s).
Calcium: 18% of the RDA.
Manganese: 30% of the RDA.
Magnesium: 30% of the RDA.
Phosphorus: 27% of the RDA.
They also contain a decent amount of Zinc, Vitamin B3 (Niacin), Potassium, Vitamin B1 (Thiamine) and Vitamin B2. (See sources)
They are also high quality protein which means your ruler for longer and help people with losing weight perfect for vegetarian too.
High in Omega 3 fatty acids. My favourite reason as I am combating some mild joint pain so am getting all the omega 3 fatty acid I can get. Omega 3 help REUDCE inflammation and have more of them gram for gram than salmon! BUT fish is still the best source of omega 3 as chia seeds contain mainly the ALA source of omega 3's which are body struggles to convert into the bio available EPA OR DHA forms. So eat fish AND chia.
Great for hydration and training as they absorb loads of water and release it into your system. Also a study show they are good for endurance training and chance performance but I have not seen any other studies suggesting this.
So there you have it! So grab yourself a food processor (I use a Magimix) and blend up a batch and plonk then in your fridge for a natural energy boost!

As with most of my recipe requiring nuts I soak and dehydrate mine before use to make them more digestible and kinder on my gut. Click here to find out more
Chocolate Chia Energy Bars
Simple, paleo, vegan energy bars to give you a natural boost!
Ingredients
Ingredients

150

g

almonds

4

tbsp

organic cocoa

4

tbsp

'scoops' organic coconut oil

5

medjool dates

1/10

tsp

salt

2

tbsp

chia seeds

TOPPING

2-3

tbsp

desiccated coconut if desired - or cacao nibs

dried cranberries would also taste good here too!
Instructions
Blend the almonds, coconut oil, dates and salt for about 10 minutes until it is runny and smooth - this takes time so be patient 🙂

Add the cocoa powder and chia seeds and blend until smooth.

Pour into a lined glass dish and smooth out top. I made then about 1-2cm in thickness .

Place in fridge to set.

Keep in fridge for softer texture or freezer for a harder crisper finish.
Notes
You could use organic butter instead of coconut oil - just take about 4 tbsp scoops of butter instead.
These are quite rich so you may want to cut then into smaller squares to serve 12-16 instead.
I have not tried these with cacao but I imagine it would work well.
---