Pumpkin Bread
Did you think of me whilst watching this week Bake Off?
My best friend sent me a message telling me that this was 'my' week of the bake off as they were copious amounts of vegetables in cakes and a high use of unusual flours! Winner.
Needless to say I loved it and was very proud of all the amazing unusual cakes I have created. In case you were inspired I have a Chocolate Beetroot Fudge Cake, Soured Chocolate Courgette Cakes or Butternut Squash Brownies recipes to quench you vegetable cakes desire, as I am a firm believer that you can have you cake and eat it without needing to consume refined flours and sugars.
And today is not exception. This recipe is about greeting this new season with joy and no grumbling. Making things out of pumpkin remind me to enjoy this seasonal not complain about the cold! Its also a nod to our friend over the waters, at it seems Americans (and myself) go mad for pumpkin anything and as they being sold pretty cheaply at my local Lidl , expect lots of pumpkin recipes over the next month. Eating seasonally is definitely something I was to develop in my diet as I believe our bodies do need different things at different times of year so this the perfect excuse. I have to say I have never eaten the traditional Pumpkin Bread so I have not idea if this is similar to the original, all I know is that it is tasty!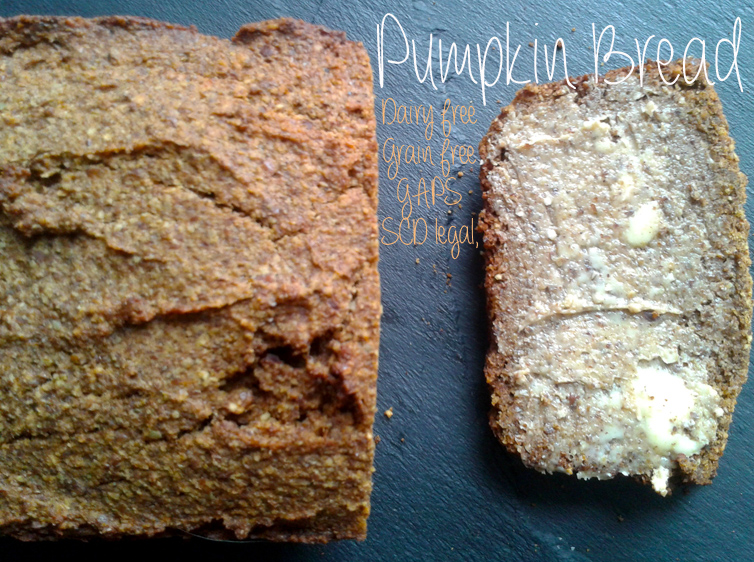 So this recipe is a grain free , diary free, tasty loaf , filled with fresh pumpkin, omega 3 boosting linseeds, coconut oil (diary free ) and lots of tasty autumnal spices. It surprisingly easy to make and is very filling. Although it has honey in it it is definitely more of a loaf then a cake so it great for a quick breakfast or afternoon snack.
Pumpkin Bread
A pumpkin and cinnamon infused diary free, grain free loaf that is perfect for breakfast, lunch or snacking!
Ingredients
Dry Ingredients

200

g

Ground Linseeds

125

g

Fine Desiccated Coconut

Pinch

of Salt

4

tsp

Cinnamon

1/2

tsp

Nutmeg

1.2

tsp

Bicarbonate of Soda

Zest of 1 lemon

Wet Ingredients

4

Organic Free Range Eggs

3

tbsp

Coconut Oil Melted

200

g

Cooked Pumpkin

3-4

Drops Vanilla Essence

4

tbsp

Honey

or more for a sweeter loaf

1/2

inch

Fresh Ginger Grated finely/ 1-2tsp Dried Ginger
Instructions
To cook the pumpkin just place the whole pumpkin in the oven for about 1.5 hours at 170c after stabbing it a few times with a knife.

Then once cool scoop out the seeds and then scoop out the flesh, discard the skin.

Preheat oven to 170c.

Line and an 8inch loaf tin.

Mix all the dry ingredients together.

Blend all the wet ingredients until smooth.

Thoroughly combine the wet and dry ingredients , then pour into loaf tin and off the top of the mixture.

Bake until a skewer comes out clean and it springs back, which will be approximately an hour but check on it every 15 mins as all ovens vary.

Once cool remove from tin and serve with butter, cheese, jam or any else you fancy!
Notes
Feel free to use canned pumpkin as long as there is nothing added to it.
If you want to spruce this up you could add an icing made of coconut oil lemon juice and honey.
If you make a larger loaf the cooking time may increase.

Ingredients
---