Black Forest Hot Chocolate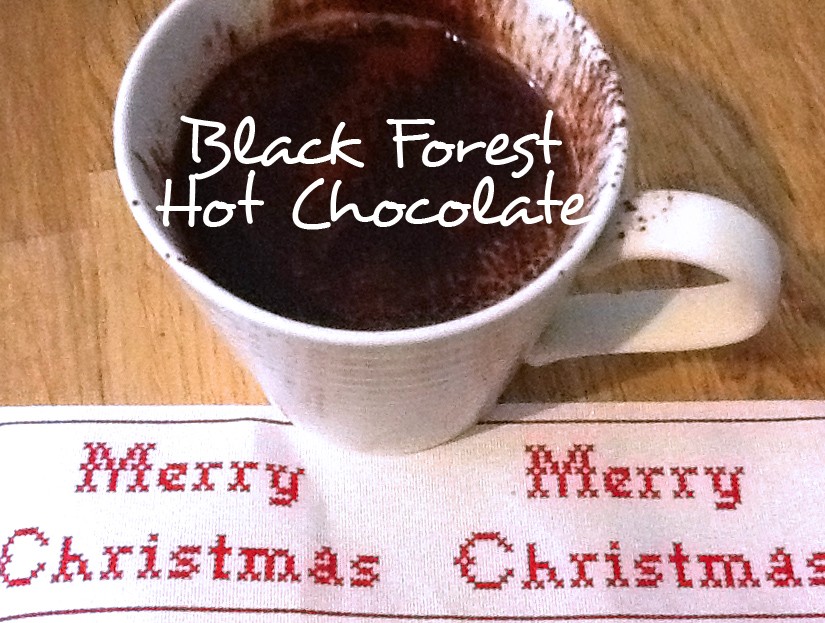 This weekend we got our first christmas tree and enjoyed the whole cutting it down yourself experience (in the rain), then we decorated out house, had many laughs over hanging 'balls' everywhere (as in baubles – but we are just very childish) and I made my first massive batch of mince meat so I now feel fully festive! And it was amidst all this festive frolicking that I decided I wanted to do a Christmas countdown here on my blog, like a mini advent calendar, were I post every day for the next 15 days some festive recipes, homemade gift idea, tips and other naturally inspired posts! I already have so many easy, natural and simple recipes and tips lined up for you that will make this festive season fun, healthy and actually good for you body !!
Also I will be giving away some exclusive coaching offering at the end of the week as well (as launching my coaching section of the website) that is limited in number so make sure you sign up to my newsletter, in order to get first dibs on it all!
So today is Day 1 of my Christmas Countdown and this is in response to my love of seasonal drinks.
Coffee shops tend to be my weakness as I LOVE coffee and hot chocolates and sitting for hours staring out of windows! So this week I visited Costa and saw there black forest hot chocolate and decided to make my own version that I could have without breaking the bank or filling my body with artificial junk. This version can be as decadent or ordinary as you like and because it is naturally good for you I am enjoying one of these everyday right now!
Black Forest Hot Chocolate
2013-12-09 10:07:34
Serves 2
A quick and delicious hot chocolate naturally flavoured with black forest goodness.
Ingredients
4 tea bags of Blackcurrant/Fruits of Forest/Strawberry/Blackberry and Nettle/ Blackcurrant adn Vanilla etc
300 ml Filtered Boiling Water
1/2 tsp Vanilla Essence
2 tsp Raw Honey
300ml Milk (any kind goat, cows, almond )
3 tbsp Cocoa Powder
Cream (optional)
Instructions
Pour 300 ml of boiling water over the tea bags and allow to stew until a deep red/purple colour. The more tea bags your use and the longer you leave it the stronger the flavour will be.
Then place all the ingredients in a pan and heat at a low temperature, whisking as you go.
Make sure you don't let the milk boil!
Pour into your mugs and dust with cocoa powder and add cream for a bit of festive decadence!
Notes
Experiment with what flavour you prefer. I use a mix of 2 strawberry teas and 2 Forest Fruits teas bought from Asda!
Kezia Hall | Holistic Nutritionist & Health Coach - Healthy Living, Grain Free Recipes https://keziahall.com/wp/
---