20 Super Healthy + Slimming Snacks Ideas
We have had lots of snack chat recently haven't we? I have shared with you some of my favourite recipes and tips as having good snackage to hand is a pretty important key to getting healthy and getting/staying slim. Often its not our meal that are filled with processed junk or sugar its the snacks, that seem so small and insignificant but can wreak havoc on your health.
Plus the one thing that is going to make you reach for the biscuit tins is it being 4pm and your starving hungry with nothing tasty in your bag to munch on. So here are 20 different snack ideas that will make your taste buds and tummy very happy!
1.Carrot, celery and cucumber sticks. I eat them on there own or with some sort of dip or peanut butter.
2. Apple and peanut butter.
3. A small avocado with a sprinkling of salt.
4. One up on the above if your really hungry, half an avocado filled with cashews and some salt – yum!
5. My coconut butter bites – a filling snack in one bite!6. My winter smoothie.
7. 10- 12 Cashews or Almonds
8. Banana smoothies with about 300ml almond milk, a banana, 200ml water and some cinnamon.
9. Any soup – I often have an afternoon mug of soup to keep me going.
10. Berries with natural yogurt or kefir.
11. Oatcakes with butter or nut butter
12. Homemade guacamole with vegetables, plain corn chips or rice cakes
13. A small piece of Brownie from the freezer with a cup of tea! 14. Cashew Nut butter mixed with yogurt, in a smoothie or on oatcakes, carrots or celery.
15. Nak'd Bars – perfect when you are out and about and forgotten to bring anything . They are very sweet but perfect in a hunger emergency!
16.Homemade Nak'd bars – recipe is here.
17. Dried apricots with almond butter and a sprinkling of cacao nibs.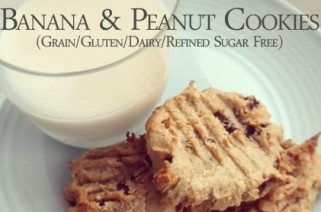 18. Vegetable Crisp (in moderation they are basically deep fried vegetables!)
17. Fresh juices – see here for recipe ideas.
18. Banana & Peanut Butter Cookies – so good to have in freezer, handbag ad biscuit tin!
19. Fresh Fruit with organic natural yogurt
20. Chocolate milk! Always a winner….
What are your favourite snacks and combination? I always need more ideas!!
---