Simple Snacks: Banana & Peanut Butter Cookies (gluten/dairy/grain/refined sugar free!)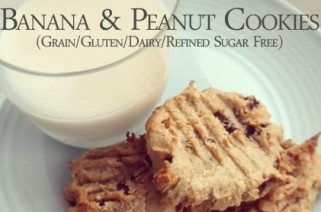 Need some healthy snack inspiration? Fancy a little something for your afternoon cup of tea but don't want to spend hours in the kitchen? Then these are for you.
I whipped them up in only 5 mins and then just chucked them in the oven and they are simple, filling and oh so good for you!
However I do feel a bit of a traitor posting this recipe. You see my beloved husband is super allergic to peanuts so having made a batch of these super simple, incredibly healthy cookies feels a bit treacherous. Luckily I have lots of lockable tupperware boxes that they can live in and maybe I just won't tell him I've been baking….
These little cookies are also super filling so perfect if you are in a hurry but need something that will give you lasting energy. There is no refined sugar in these (obviously) so you wont end up on a blood sugar spike, and are naturally sweetened meaning they are not sickly sweet. If you want a more sweet taste then feel free to add 1-2 tbsp of honey or maple syrup to the recipe.
I have just eaten mine with a glass of homemade almond milk and feel like a happy 4 year old!
And if you want to learn how to detox, feel awesome and STILL eat cake then make sure you join my tribe for your free meal plan and eGuide:)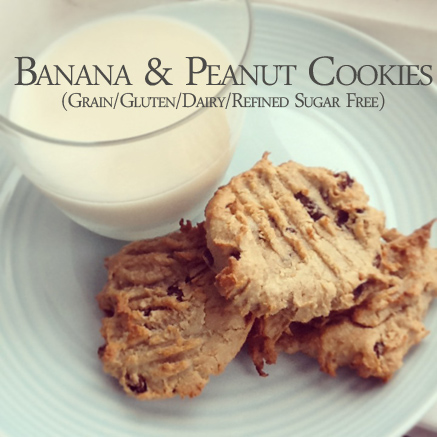 Banana & Peanut Butter Cookies
2014-04-03 06:09:20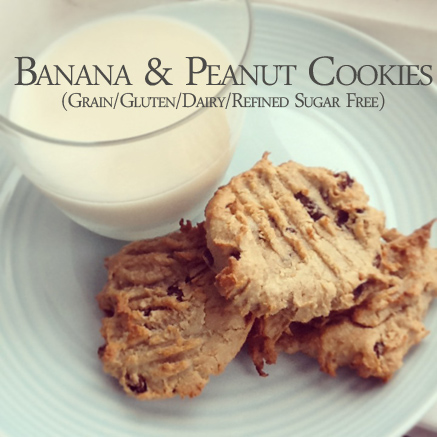 The quickest cookie you can make that gluten/grain/dairy/refined sugar free!
Ingredients
100g Ground Almonds
100g Peanut Butter (sugar free and ideally organic)
80g Organic Raisins
2 Banana
1tsp Vanilla Essence
Instructions
Place all the ingredients in a blender/food processor until smooth. The add the raisins and mix in by hand only.
On a grease tray place 1 tbsp dollops on tray. Place in a preheated oven at 180c and after 10 minutes squish the cookies down with a fork until flat. Leave to cook for a further 10-15 minutes or until golden.
Leave to cool and enjoy!
Notes
Can be frozen.
Feel free to use chocolate chips instead of raisins or any other sort of nut butter if peanuts are a problem for you.
Kezia Hall | Holistic Nutritionist https://keziahall.com/wp/
What are your favourite cookie combinations?
Get your FREE Natural Sweetener Recipe eGuide HERE!
---