'Pumpkin' Cake – Grain/Gluten/Sugarfree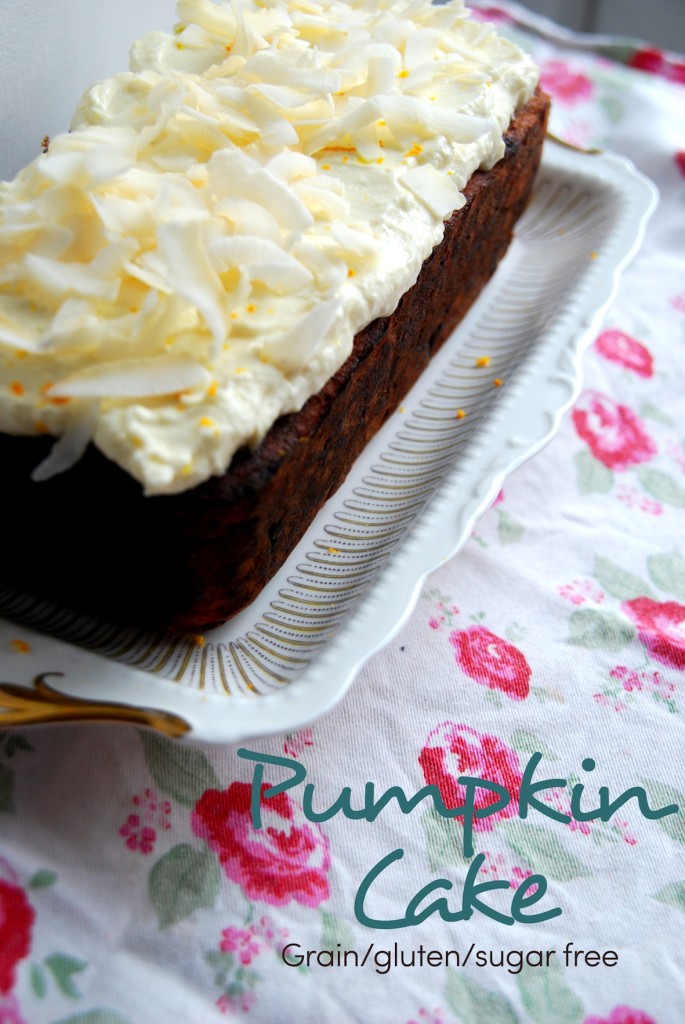 This recipe was the result of a marathon baking session this weekend. Maybe it is finding out that the Great British Bake Off starts soon, or that is was my sister in love's birthday bbq or that I find baking in large quantities massively cathartic. What ever the reason, I did Delia Smith proud and this recipe was one of the happy results of the weekend of baking.
I produced one sugar and flour full cake as my sister's birthday cake and out of pure selfishness and the fact that I wanted to eat cake too, I came up with this beauty. inspired by this recipe and by my new-found love of organic cream cheese icing from my carrot cake recipe this was always going to be a winner.
Pumpkin is hard to come by when its out of season here and the canned stuff is super expensive so I used butternut squash and it worked a treat (it also works great in my brownie recipe too). This loaf cake was super flavourful, moist without being too heavy and dense. It's the sort of cake I think you would be totally justified in eating for breakfast too!
Its also a great source of natural carbs too. As a grain free eater I avoid all types of grains so have to make sure that I get enough carbohydrates from vegetables and fruit as a low carb diet is not healthy, especially for women as carbs are essential for healthy hormones. So go on eat some cake – it will help your hormones…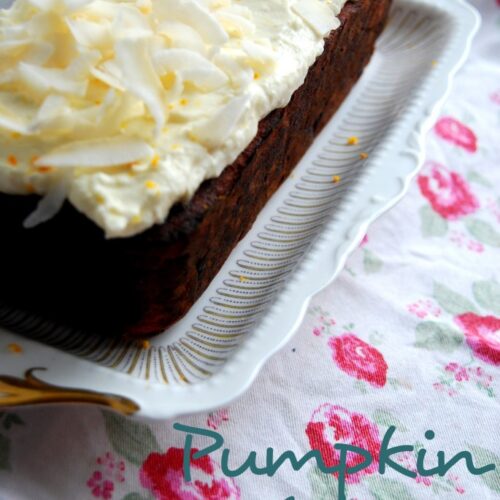 Pumpkin Cake with Lime Frosting
Ingredients
400

g

cooked butternut squash

1

ripe banana

1

cup

almond flour

Pinch

salt

2

tbsp

organic butter

1/4

tsp

nutmeg

zest 1/2 lemon

2

tbsp

honey

3

organic eggs

3

tbsp

coconut sugar

1

tsp

cinnamon

1/2

tsp

vanilla essence

CREAM CHEESE FROSTING

300

g

organic cream cheese

1

tbsp

coconut oil

juice of 1 lime

Zest of a lime

Decorate with orange/lime zest or coconut slices.

2

tbsp

raw honey
Instructions
WHisk the eggs for 2-3 minutes until fluffy. Meanwhile Blend the butternut squash in food processor until smooth. Add the other ingredients and mix until smooth. Add the eggs and mix int gently until thoroughly combined.

Place in a grease and lined loaf tin and put in a pre heated oven at 160c for the first 45 mins then 180c until cooked.

Cook until firm, roughly 1-1.5 hours depending on oven. Check regularly.

Once cooked and cooled make the frosting by mixing all the ingredients until smooth and then place it in the fridge for 15-20 mins. The cover the cake and top with decorations of your choice.
Notes
Last for 2-4 days but best eaten fresh
Whats your favourite vegetable cake? Ever baked with butternut squash before?
---