I love a good challenge.
Climbing up big mountains, trying to beat my husband at Scrabble and of course baking delicious things with no ingredients.
Well that's what Joe calls it when I bake with no grains, gluten, sugar, dairy and today I have even gone egg free with this Vegan, Nut, Sugar, Gluten & Grain Free – Banana Bread.
The other week I fancied a slice of healthy goodness and my usual freezer stocks were empty but alas no eggs in the house. So undeterred I set about making a egg, grain, dairy, sugar, and gluten free banana bread – but PLEASE don't let that put you off. This tastes AWESOME!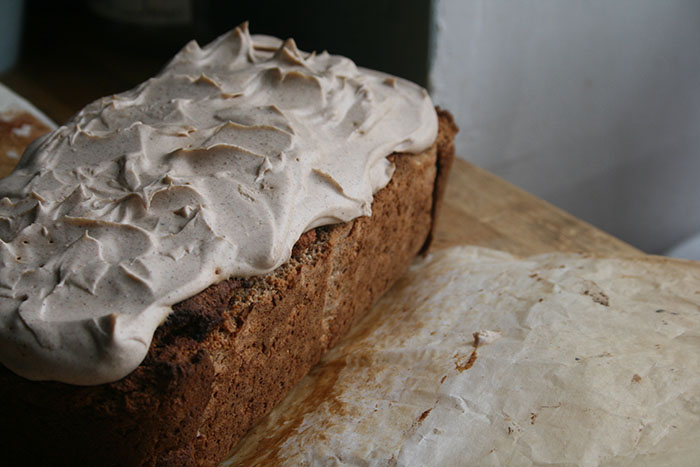 I have been experimenting more with tapioca flour and plantain recently which I love! Also I have had different stints of eating egg free as I have briefly followed the Auto Immune Protocol and other gut healing protocols like GAPS as often egg can be problematic for people.
And the cinnamon cream icing is totally optional, I have mainly been eating it all week with organic butter but icing always makes for a more fancy affair doesn't it.
Also if you are struggling like I used to with IBS, pain, fatigue, skin issues or general poor health then it could be down to poor gut health and that my friend is something I know a thing or two about as healing my gut has been my journey for the past 4 years.
Did you know IBS can be treated and you don't need to just 'live with it', same for chronic reflux, PMS and more. Every week I work with clients who are getting healthier which each meal they eat which is so amazing and inspiring to see. So click here to find out more and know that you body want stop heal and it wants to be well 🙂
Can I get an amen for BUTTER?!
In terms of ingredients, I get tapioca flour HERE and plantain from a local world food shop as I live a really multicultural area, but I have seen them sold in Morrisons before too. The coconut cream is available in cartons at large supermarkets now and is basically super concentrated coconut milk.
People often ask me where I get ingredients and supplements from and I honestly get a lot of stuff from Amazon as I have found it to be the cheapest and easiest (also I hate shopping and avoid it at all cost) way of doing it which is why I have a mini shop here so if you can't find an ingredient then chances are it will be in there.
And if you like the sound of this recipe then make sure you check out:
Banana Bread - Vegan, Grain, Gluten, Nut & Sugar Free
An easy banana bread that is perfect for healing diets, vegan or those who want to eat healthy but delicious cake!
Ingredients
CAKE

80

g

tapicoa flour

100

g

coconut flour

85

ml

melted coconut oil

2

ripe bananas

1

plantain

3

tbsp

coconut sugar

150

ml

coconut milk

1/4

tsp

salt

1

tbsp

cinnamon

1

tsp

ginger

1

tsp

raw apple cider vinegar

1/2

tsp

bicarbonate of soda

ICING - Optional

250

ml

coconut cream

3-4

tbsp

coconut sugar OR 2 tbsp honey

1/4

vanilla pod seeds or tsp vanilla extract

3

tbsp

melted coconut oil

1

tbsp

cinnamon
Instructions
Preheat oven to 190c.

In a food processor blend the plantain, banana, coconut milk, coconut oil, raw apple cider vinegar until smooth but still a thick texture. Meanwhile mix the other dry cake ingredients in a bowl.

Mix the wet mixture into the dry flour mixture until smooth.

Pour into greased and lined 2lb/900g loaf tin and smooth the top of the cake mixture.

Cook until firm and solid in the middle.

Remove from oven and allow to cool.

ICING

Whisk all the icing ingredients in a bowl and then spoon onto cooled cake and place in the fridge for the icing to harden and set.
Notes
Coconut flour can vary in absorbency so if needed add more water or coconut milk a little at a time
Are you a banana bread fan? With icing or just butter?