Oven Baked Butternut, Lentil & Chard Curry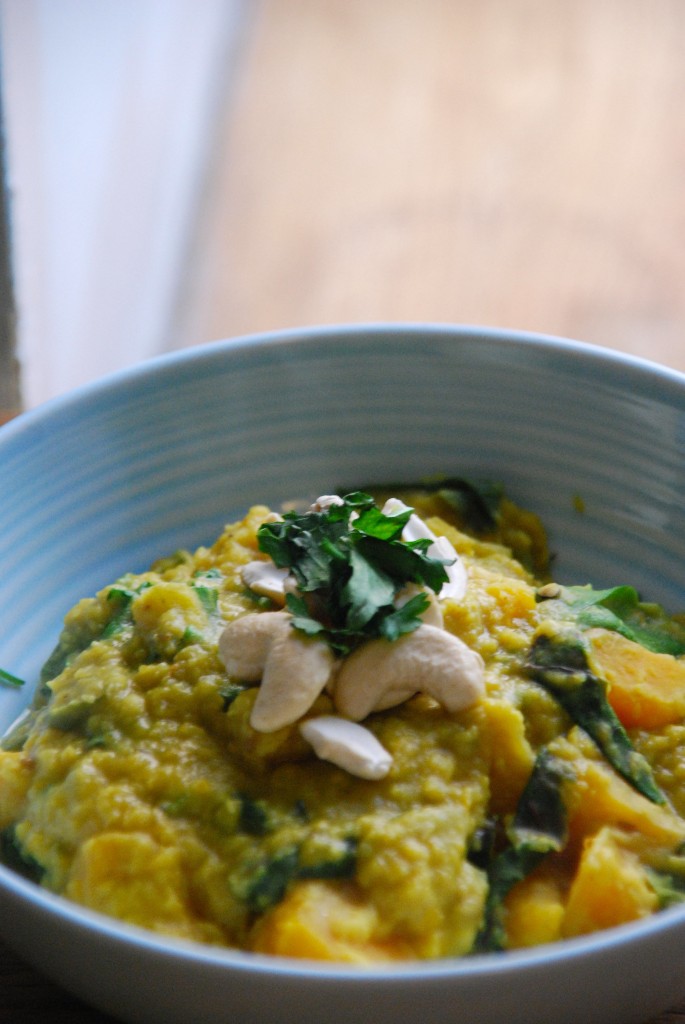 In this house we eat a lot of curry. In fact I would happily eat it for breakfast, lunch and dinner and be quite content in life.
I blame it on my student years where my wonderful flat mate worked in an amazing curry house and would regularly bring free curry home and up until that point I have never experience, real, authentic, non MSG filled curry goodness. Then came my 5 week trip to India which despite the sickness along the way, fully sealed my love of all things (mildly) spicy and curry like (unfortunately not for my best friend who I travelled with who is now very wary of all curry type things – thats what 2 week of Deli – belly does to you!)
Now I will by no means say this is an authentic curry, with hand roasted spices made in a traditional way – this is truly a British/Kezia style way of creating a curry – so apologise to all you curry purists out there. Plus this curry is SUPER mild as I made it for a family gathering where my Mum in law is allergic to chilli's . So this is perfect for introducing people to the joy of curry flavours without the crazy hot space – although feel free to add it in! And it contains chard – not exactly a typical curry veg but hey its in season and its pretty cheap!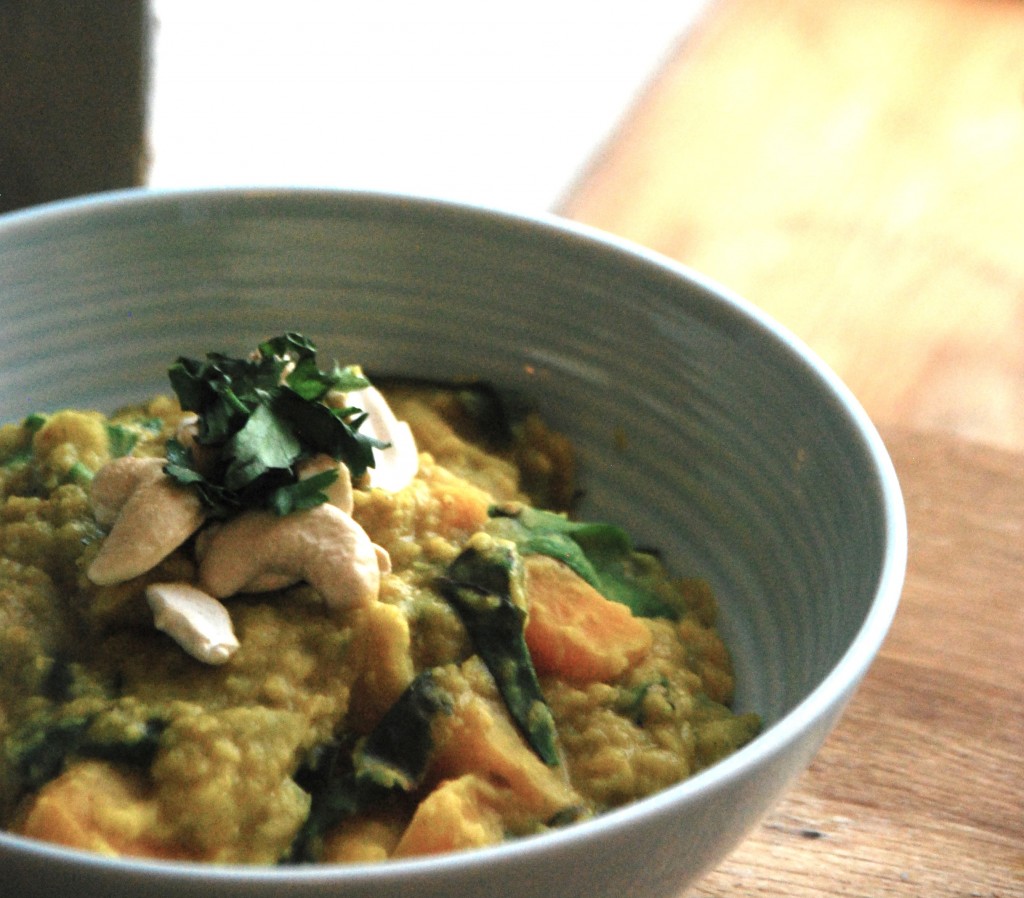 I also tried putting it in the oven as I have a full hob due to hand-made onion bhajis (more on those wonders next week!) and it worked a treat and gave it a thicker more comforting feel and texture. I served this with rice and oven baked cashews to sprinkle on top and it was yum. Clean bowls all round .
(Plus this recipe makes tons so it means you can freeze a bunch of it for those days when curry calls but the energy to create one does not!)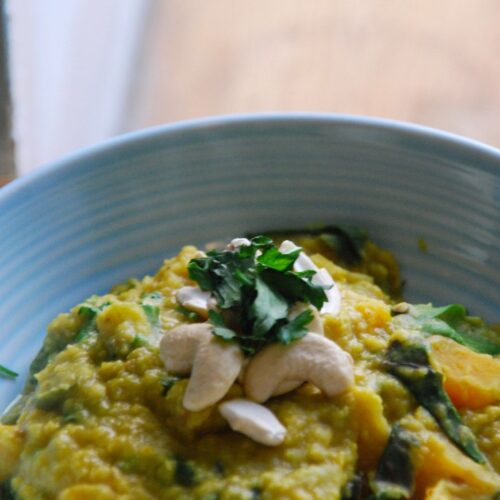 Oven Baked Butternut, Lentil and Chard Curry
This easy curry is perfectly mild and a great introduction for those who are unsure of spicy food. It contains no chilli (making it perfect for any food sensitivities) just a warm spicy flavour with the added richness of the coconut, the sweetness of the butternut and the contrasting green flecks from the chard.
Ingredients
600

g

chopped butternut squash

about litre of water

2

sliced onions

1

tsp

ground coriander

3

tsp

gram masala

2

tsp

cumin seeds

1

tsp

turmeric

2

tsp

salt

3

cups

red lentil soaked

100

g

fresh chopped chard

or spinach

100

g

creamed coconut

TO SERVE

Fresh coriander

Cashews
Instructions
About 4-5 hours or over night, cover the red lentilS with water and leave to soak.

When you want to cook turn the oven onto 180c.

In a large pan place the onions in with about 2 tbsp of fat (coconut oil and /or butter) with the salt and sauté for a few minutes . Then add the other spices except for turmeric and keep heat of medium making sure the spices don't catch.

The add the drained lentils and butternut squash and turmeric and stir in.

Add about 700ml of the water along with the cream coconut and bring to simmer. Then transfer into the oven in a oven proof dish.

After about 15 minutes check on the curry and stir add in remain water is required. Then after about 30 mins add in the chopped chard and cook for further 10-20 minutes.

Check regularly on the dish and add more water is necessary.

Serve with a garnish of fresh coriander and cashews on a bed of rice or simply on its own!
Notes
Fancy a kick ? Then just add a red chilli when adding the other spices or add a tsp of cayenne pepper.

I pretty much think you can 'curry' anything – eggs, veg, lentils, pulses or meat – making it the perfect frugal friend!

What is you favourite frugal food? Ever baked curry in the oven before?
---