My Top 5 (Frugal) Superfoods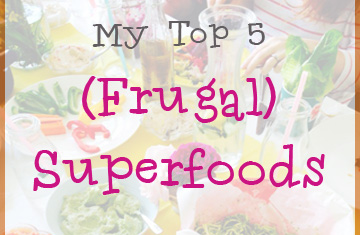 Everyone has gone a bit mad for Superfoods haven't they? Now I do not think this is a bad thing at all. I love a good goji berry, or a bit of maca powder in my smoothies (find out what it is here) but today I thought I would simply share with some amazing, nutrient dense foods that wont cost you the earth.
As you will have read from my last post, over the last few months I have been writing my first eBook which is all about helping you find your version of health and slim. It is focused on natural, real, whole foods that are nutrient dense and oh so healing for the body. So as I have been creating new recipes for the book and creating all the additional resources to go with it I got thinking about all the frugal, low budget super food options that are our there. So here are my current top five:
(Make sure you have signed up to my newsletter as all my subscribers will be getting an 20% discount code on my Flourish eBook & Virtual Coaching Bundle – sign up here)
1. Bone broth . This really is a both incredibly frugal and incredibly good for your body. To find out more in depth information then click here for a previous post but basically your grandma used to give home made chicken Soup when you were ill for a reason. It is full of loads of healthy fats, vitamins, minerals and all round goodness.
2. Green veg. Sure you can get wonderful green powders like spirulina and chlorella ( find out what they are here) which are brilliant but good old broccoli, kale, spinach, cucumber and avocados etc, are also awesome too (if less nutrient dense). Green vegetables are in general jam packed with calcium, iron, vitamin c as well as loads of other phytonutrients and goodness. Plus they are super cheap especially when in season – right now broccoli is 50p and incredibly nutrient dense. So just fill your plates with green goodness or get on the green smoothie train:)
3. Cocoa. I have talked about the raw form of cocoa – cacao – in a previous post and it really is wonderful stuff, but plain old cocoa is also a winner when it comes to health and a fraction of the cost. Naturally high in antioxidants and minerals like magnesium, plain cocoa is a great frugal food and cupboard choice. Check out my instant hot chocolate mix here.
4.Sauerkraut . For some reason Sauerkraut has a really bad reputation. Maybe school dinners are to blame or the horrendous shop bought sauerkraut you can find but sauerkraut is a daily staple for me. Not only will it cost you about £1 for 2-3 week daily supply it will also help heal your gut and digestion, provide you with vitamin c along with a bunch of natural probiotics. I make mine using one white cabbage and one red so it becomes a wonderful pink colour and you can find a recipe here.
5. Onions & Garlic . Cheating slightly here as they are technically two separate things but I count them as one of the same thing. Both are super cheap all year round and have remarkable benefits. Garlic is a fantastic anti fungal and anti viral so it's wonderful for fighting a cold and keeping a strong immune system . Onions contain lots of inflammatory Quercitin, which acts as natural antihistamine and they are filled with phytochemicals which improve the working of Vitamin C in the body, meaning a stronger immune system! Win.
So obviously I think the traditional Superfoods like maca , cacao and goji berries are brilliant and good for your body it is not always possible to have a cupboard full of them. I invest in one or two at a time whilst with the list above I ensure, and can afford, for them to be daily staples and eaten in large amounts .
So definitely invest in some super duper nutrient dense foods like cacao but don't stress if you can only afford open at a time as you can just make sure you are getting these frugal Superfoods In to your diet every day too:)
What's you favourite superfood?
---