Lemon & Blueberry Coconut Flour Muffins (grain, gluten, nut & dairy free)
I love good muffin! Nothing better than making yourself a foamy coffee on a Saturday and sitting down to a huge cake – for breakfast. I mean cake for breakfast is the dream isn't it? And muffins are the answer to that dream.
Plus in true Kezia style these babies are HUGE and pretty much everything free:) These Lemon & Blueberry Coconut Flour Muffins have no dairy, gluten, grains, refined sugar or other crap in them. They are just made using coconut flour and other natural goodness. To be honest, I have been trying to make a Coconut Flour
muffin for ages but they have turned out lame so I rejoiced when these worked and tasted awesome.
Coconut Flour
is a great flour to use for gluten free baking as it is full of protein and allow it is more expensive that white flour you use very little of it and it require using lot of eggs so that means even more protein goodness. but it is a bit of beast to work with as it does behave like normal flour at all. So don't say I didn't warn you;)
After the wonderful 10 Day Green Smoothie Challenge I was very glad to sneak in a huge muffin into my morning. And for all you Green Smoothie challenges then make sure you send me you photos as I will be sharing a green smoothie recipe this week and would love to do a round up:)
But back to cake. I was based on the recipe on the back of the Nutriva Coconut Flour packet and I just tweaked it. And to get HUGE muffins I stole my sisters massive muffin tray which is a bit like this one. The normal muffin trays you get are lame and so tiny – I like my muffins big….I will leave it there before I get into more muffin innuendo!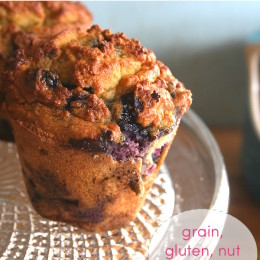 Lemon & Blueberry Coconut Flour Muffins
A delicious HUGE lemon and blueberry muffin that is grain, gluten, dairy and nut free!
Ingredients
125

g/1 cup coconut flour

6

medium organic eggs

250 - 275

ml

coconut milk

85

ml

or 1/3 cup maple syrup or honey

1/2

tsp

bicarbonate of soda

zest of a large lemon

125

g

fresh blueberries

pinch

salt

100

ml

or 4 scoops of coconut oil
Instructions
Preheat oven to 190c

Sift the coconut flour salt and bicarbonate soda in a bowl.

Then in a blender blend the eggs, coconut oil, 250ml coconut milk, maple syrup/honey until fluffy.

Gently blend the dry and wet ingredient slowly. Add the remaining coconut milk if the mixture seems very dry and lumpy - you want it thick but not to stodgy.

Add the zest and fold in the blueberries.

Place in muffin tray and place in oven and cook for 30-40 mins.
Notes
This will make about 6-7 massive muffins or about 12-14 standard sized ones.
Coconut flour varies in it absorbency so add more coconut milk or less depending on your brand of coconut flour.
They keep for about 3-4 days in air tight container but best fresh.
Adapted from Nutiva
If you want more of where this cam from and you want to know how eating cake for breakfast can actually be a part of a healthy and slim lifestyle then make sure you grab my Slim For Life eBook with a bonus 30 recipes – including dessert!!
And get your butt on my mailing list where I send out even more recipes and secret stuff that I don't share here – just click here to sign up!
But tell me what cake would you secretly LOVE to eat for breakfast every day?

---