Chocolate & Raspberry 5 Minute Mousse – Dairy, Sugar & Grain Free
There is a bit of a misconception out there that eating healthy and making food from scratch means you need to spend hours and hours in the kitchen.
Sure eating whole, real and natural foods is going to take you a tad longer than a phone call to get a pizza delivered but when it comes to life long health that is not much of a cost. What the point in saving time if your don't have the health to use it?
Tweet: What the point in saving time if your don't have the health to use it? @keziahallhealth
The only reason I spend hours in the kitchen is when I am:
A. taking photos of food (I am NOT a natural photographer. I am a natural eater and these two don't often go hand in hand…)
B. I am perfecting a recipe for you guys therefore I make is several times in a row…
This Chocolate & Raspberry 5 Minute Mousse – Dairy, Sugar & Grain Free recipe is the perfect example of not having that much food in the house, having a busy day and saying we would take pudding round to a friends house for dinner that evening. And when I say it is a five minute mousse I mean it. You literally blend and then leave to set. That is all.
Plus it is super healing and oh so good for your body. If you have read my homemade marshmallow recipe then you will know why gelatine is so good for you. I use Great Lakes Unflavored Gelatin
as it is really good quality and I see it as more of a superfood supplement and try to eat some every day to help my gut increasing heal and repair itself.
Plus the organic cocoa is this makes it full of magnesium and the medjool dates means it is sweet but in a low glycemic index way – SWEET!

This is what I use .
Want more ingredients – check out my shop
And if you like this sort of dessert then make sure you check out my Chocolate Fudge Avocado Pots too and did you know that this is the sort of dessert I recommend during my Flourish eCourse?
If you want to know how get healthy without spending hours in the kitchen or going crazy then make sure you sign up to my last Flourish 6 week online course before the summer – click here to find out more.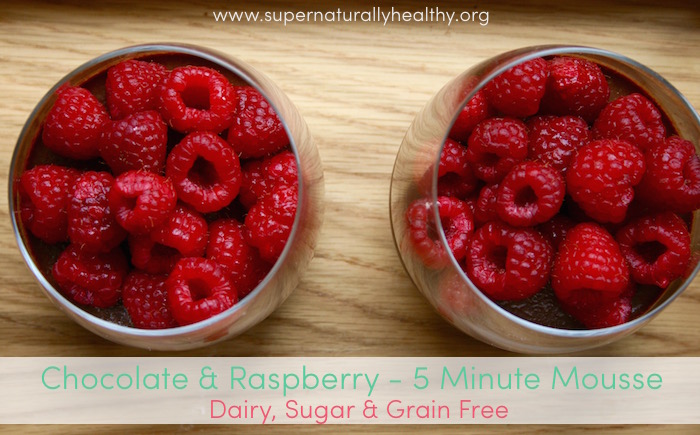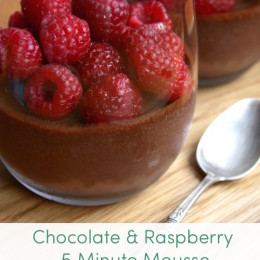 Chocolate and Raspberry 5 Minute Mousse
A decadent and simple dessert that take less 5 minutes to make but tastes delicious.
Ingredients
MOUSSE

7

medjool dates

600

ml

water

2

tbsp

quality gelatin

2

tbsp

coconut sugar or 1 tsp raw honey/maple syrup

1

tbsp

vanilla

a pinch salt

6

tbsp

organic cocoa powder

2

tbsp

scoop coconut oil

TOPPING

200

g

raspberries
Instructions
Blend all the ingredient for the mousse in a blend and blend until totally smooth - about 30 seconds.

Then bang your blender jug a few times to remove large air bubbles.

Pour into glasses, teacups or whatever you want to serve it in.

Lightly hit the glass again to remove air bubbles.

Place in fridge and leave to set - this will take about 3-4 hours.

Top with fresh raspberries and enjoy.
Notes
Feel free to add other flavours like chilli, cinnamon, coffee etc.
What is you favourite 5 minute healthy dessert?
Are you part of my Super Naturally Healthy Tribe yet? Sign up here for FREE recipe eBook!
---