I think I could probably spend the rest of my life eating peanut butter and chocolate.
It's such good combo.
And after a trip to America when I was 9 years old I got introduced to peanut butter cups and OMG life changed.
I made these recently too with almond butter, for those of you who don't eat peanuts, and they are JUST as good.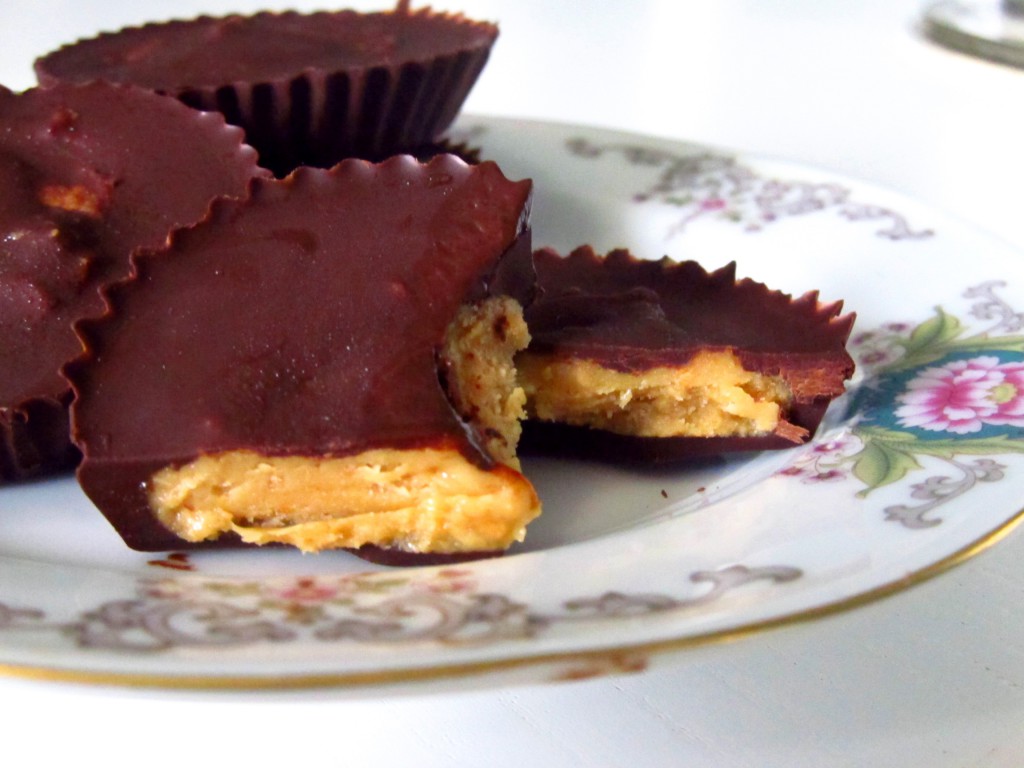 These are simply awesome and the perfect way to curb any chocolate craving. I make these using 90% dark chocolate to keep sugar to a minimum but feel free to use your fav chocolate and again use sugar-free peanut or almond or any other nut butter you fancy 😉
Or you can make these as well with my homemade dark chocolate recipe, add in a few slices of banana, some berries…. the options are endless!
Want more awesome sugar, gluten, and dairy free recipes that actually taste good?? But know you need to ditch the sugar addiction?
Then make sure you get your FREE Complete Natural Sweetener Recipe eGuide BELOW which is your complete guide to the world of natural sweeteners and how on earth to use them…..and eat cake!
Organic Peanut/Almond Butter Cups
A healthy, dairy free version of a classic - grain free, dairy free and treat-tastic!
Ingredients
Coating

200

g

Dark Organic Chocolate

I used 85-90%

2

tbsp

'scoops' Organic Coconut Oil

Filling

130

g

Peanut or Almond Butter

no added sugar + organic

1

tbsp

Raw honey

1

tbsp

Coconut Oil
Instructions
Melt the chocolate in the glass bowl over some simmering water with the coconut oil. Mix thoroughly.

Then in muffin cases (around 10) place a tbsp of chocolate mixture in each case to thinly cover the bottom of the case . Place the rest of the bowl of melted chocolate over the warm water but with the heat off under the pan - this ensures it stay melted. Place the muffin cases in the freezer on a tray.

Then either by hand or by pulsing in the food processor blend all the filling ingredients. Do not blend for too long otherwise you lose the creamy consistency.

As always, taste and see if you want to add more sweetness or salt depending on your fancy.

Then place just less than a tsp of the peanut butter mixture on the now frozen chocolate lined muffin cases. Make a round layer in the middle but don't let it reach the edges.

Level off the peanut butter discs.

The pour slowly the remaining chocolate until covered, do this a little at a time to ensure you have enough to cover all of 'cups'.

Smooth the tops if any peanut butter mixture pokes through (if your bothered). Then freeze until solid - about 45mins.
Notes
By a scoop I mean using a tablespoon to scoop a level amount from hard coconut oil.
This would also work brilliantly with my homemade chocolate recipe and with almond/cashew butter.
Budget tip - Sainburys sell the cheapest organic peanut butter I have yet to find!!
Adapted from Reese Petter Butter Cup - well inspired by!