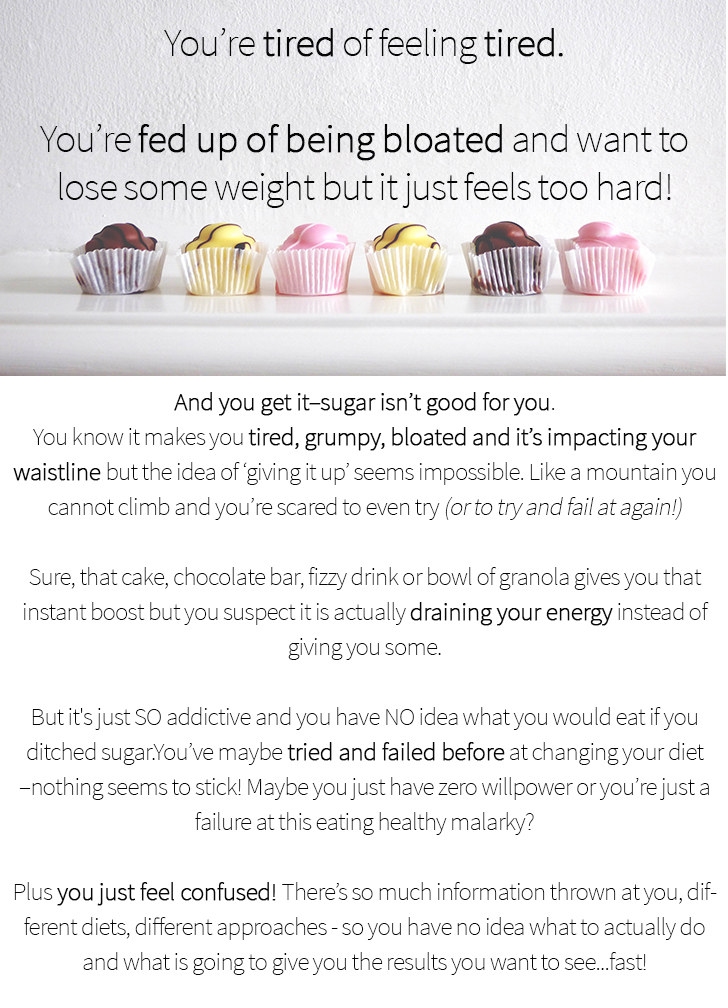 But what if ditching the sugar addiction
was simple and EASY!
Imagine if that you woke up feeling refreshed and ready to go and you made it through the afternoon feeling energised? That your belly was a bit flatter and you finally started to feel lighter, brighter and with that healthy glow. Your weight begins to shift but you didn't feel deprived, but eating delicious healing foods… including chocolate too!
Imagine that you made healthy food choices EFFORTLESSLY throughout the day and you didn't 'need' sugar for energy or to feel good? And when you look in the mirror you like (even love) your body and are proud of what you put into it, knowing that are a good example to those around you.
You aren't 'on or off' any diet or program. Eating and preparing meals felt easy and enjoyable as well as delicious. You're simply eating and enjoying life!
You know EXACTLY what to eat to make you feel energised, slim and happy and you're living that healthy life you have always wanted.
What would you do with all your new found energy?
How would you feel when your clothes fit better and feel less tight?

Does this sound familiar?
You look in the mirror each day and wished your belly was smaller?
You've tried so many things but can't seem to make any healthy habits last?
You feel like your sweet tooth is out of control but you're scared that you just can't ditch the sugar–it would be too hard!?
You know that the way you're eating is not doing your digestion any good?
You have no idea what to do–all the information out there leaves you confused and totally overwhelmed?
You feel like your eating is a bit out of control despite trying really hard!
I am a Holistic Nutritionist who works with women who are addicted to sugar and are fed up of feeling bloated and tired. They're not happy with their weight and are tired of constant digestive issues and know they eat too much sugar. I create a nutritional and lifestyle plan that helps them ditch their sugar cravings so that they can feel good in their clothes, and get back to living their lives.
After working together you'll:
Have a clear and surprisingly easy plan for ditching sugar so that you can increase your energy and kick start weight loss.
Have identified the barriers that are making ditching sugar so hard so that you can become sugar-free with ease.
Have a lot of sugar-free recipes so never go hungry and have lots of delicious foods to reach for when in need of a snack.
You will actually crave healthy foods and vegetables (trust me!) and will find you enjoy food so much more
You will feel really good about your body, your weight and your relationship with food.
Have started to see some amazing changes in your belly, bloating and energy – in a short space of time!
How does it work?
1. Holistic health questionnaire
You will fill in an online questionnaire before our session to jumpstart the process and get you seeing results as fast as possible.
2. Private Consultation:
Then we will hop online for our 90-minute session where you will get lots of 'aha' moments as you learn what's really going on in your body and with your cravings. In the call we will review your current health and symptoms and food diary so that we can make some simple changes that will give you big results ASAP.
3. Personalised Sugar Solution Plan
Then you will be sent your bespoke plan of action so you can ditch the overwhelm and know exactly what you need to do in order to increase energy and support digestion. It will outline the 3 steps to ditching the sugar so that you have a clear path to better energy.
4. Sugar-Free Recipes & Meal Plan
Plus to make it easier you'll get lots of sugar-free recipes and a meal plan too so that there is NO kitchen overwhelm and NO tasteless food. Dealing with sugar doesn't mean munching on celery, there is so much delicious food that you (or your family) won't notice you've ditched the sugar.
5. Follow Up Consultation
And then a few weeks later we have another short consultation to help keep you accountable and so we can make a few tweaks and then celebrate all the amazing results you've seen in just 3 weeks! Hooray (this is my favourite part!)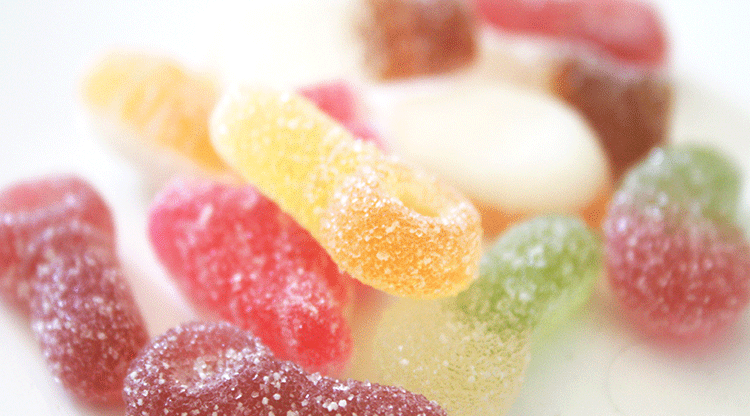 You can ditch the sugar binges, the poor energy, and those pesky pounds. I can help you by creating a clear plan that is designed just for you.
-637

Days

-19

Hours

00

Minutes

-51

Seconds
Special Spring Offer: £125
Want to get started? Excellent! Here's how it will work.
Step 1. Make your payment here.
Step 2. Within an hour of payment, you will receive an order email from me with The Sugar Solution Starter Guide with all the instruction for booking your first session and preparation work for our consultations.
Step 3. Then we'll hold your session and create your sugar solution!
I can't wait to watch you feel lighter, brighter and so much more energised!!
Hurry – this is a time limited offer!!
There are only 6 spaces available. If you have any see below or email info@keziahall.com

More Testimonials




-637

Days

-19

Hours

00

Minutes

-51

Seconds
Hurry – this is a time limited offer!!

Questions
When do you have consultations?
My online consultation clinic is open Tues – Thursday 6.30pm -9.30pm. They are held online via Zoom or Skype.
Do I need a paypal account to pay?
No you have to simply chose the second option and pay as a guest
Can I be vegetarian?
Yes!
Is it family friendly?
Of course – there ain't NO WAY I am going to make you cook separate meals for everyone #lifeistooshort
Other questions? Email info@keziahall.com
-637

Days

-19

Hours

00

Minutes

-51

Seconds
Hurry – this is a time limited offer!!