Buttered Garlic Livers Recipe & Why I am Eating More Offal (!!)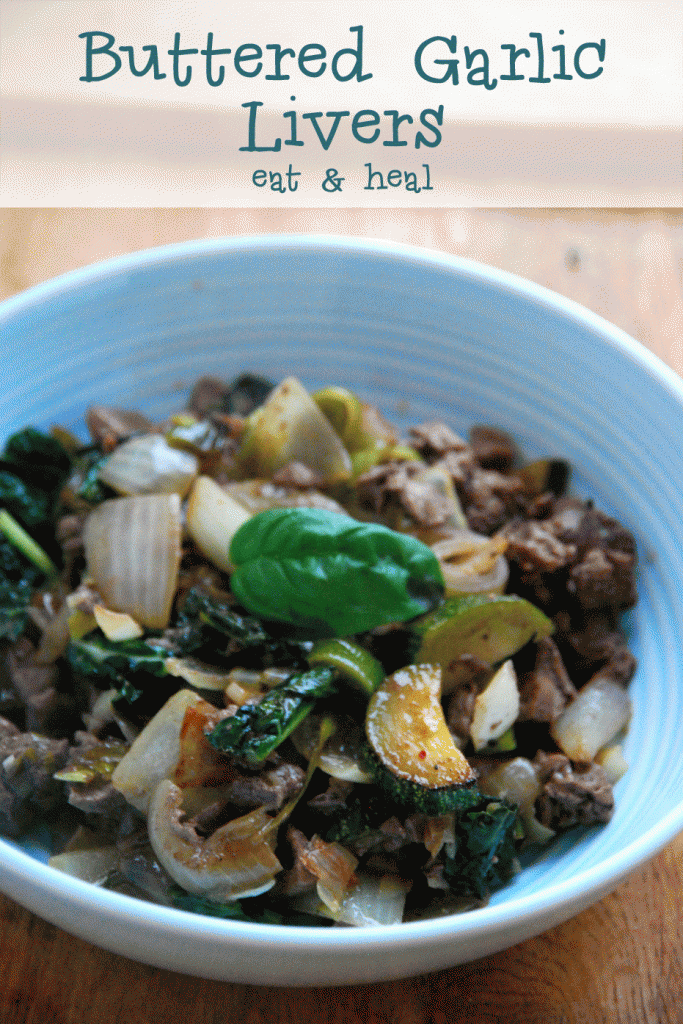 Eating liver was not something I ever thought I would do, let alone create a recipe for. The only time I thought liver was acceptable was at Christmas when eating pate on a cracker. Now I am aiming to eat it once a week. What the flip happened??
I have now been utterly convinced by the benefit that good quality, happy, liver brings to the body which I shared more about here.
Liver is full of good stuff and really beneficial in the healing process. So many healing diet protocols, like GAPS, SCD and the Auto Immune Protocol, recommend eating liver regularly as well as other offal. Now I know the idea of offal may make many of you utterly squeamish, I totally understand I used to be same. Offal used to be one of the few things I said I wouldn't eat if anyone ever asked me. But I have started to change my mind.
Other than the health benefits of consuming offal foods (find out what these are here) the other main reason is to make use of the whole animal. How much of our animals just gets wasted because we are just want steak and mince? I felt that if I feel morally happy to eat animals (which I do when they have had freedom to live a happy life) than I need to be happy to eat the whole animal, or well, at least try too!(I pray I never get offered a plate of goat testicles then I will regret these words…)
When we kill an animal it makes sense to me to make use of all the life and goodness it can give to us. This is why I use beef gelatine a lot and am aiming, slowly but surely, to get more offal in my diet.
Also offal is super cheap! Like ridiculously cheap. I got some happy chicken livers for about £1 and they will do my body far more good than any multivitamin. So if you want to heal your body, and are happy to eat animals, then why not try this recipe out? Or begin my sneaking in a tiny bit of liver into you winter casseroles or make yourself a steak and kidney pie.
Or if you just think you will never ever want to eat liver for as long as you live but want the benefits then check out this great post about making your own liver pill supplements. I am going to do this too for a short period of time so that for a short while I will be getting a super dose of liver goodness.
It worth noting that liver dishes are pretty hard to make look pretty and anything other than liver like – so maybe not the best choice when you want to impress some dinner guests or are on come dine with me …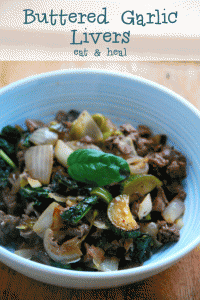 Buttered Garlic Livers
Eat and heal with this delicious liver dish!
Ingredients
250

g

chicken liver

2

onions chopped

2

leeks

Any other veg you want - courgette

spinach, kale would all work but optional

salt and pepper to taste

2

garlic cloves

62

g

or 1/4 of a block of organic butter

1/2

tsp

honey

tbsp

raw apple cider vinegar

Herbs - optional

rosemary works well
Instructions
Soak the Liver in lemon juice 3-4 hours before cooking to remove any bitter flavours (optional)

Saute the onions and leeks in coconut oil or butter until soft.

Chop the liver finely or to preference.

Add the all the other ingredients into a pan and cook on low heat for 3-4 minutes.

The liver will change in colour and if chopped up small will not take long to cook.

Serve with mashed sweet potato or celeriac.
Notes
Some people like liver 'rare' so cook it to your preference. If you a total newbie then cooking it for a while is a good plan.
A dash of left over red wine would also go great with this dish.
Make sure you add salt to this dish.
Are you a liver fan? Hate it or can eat tons of it?
---