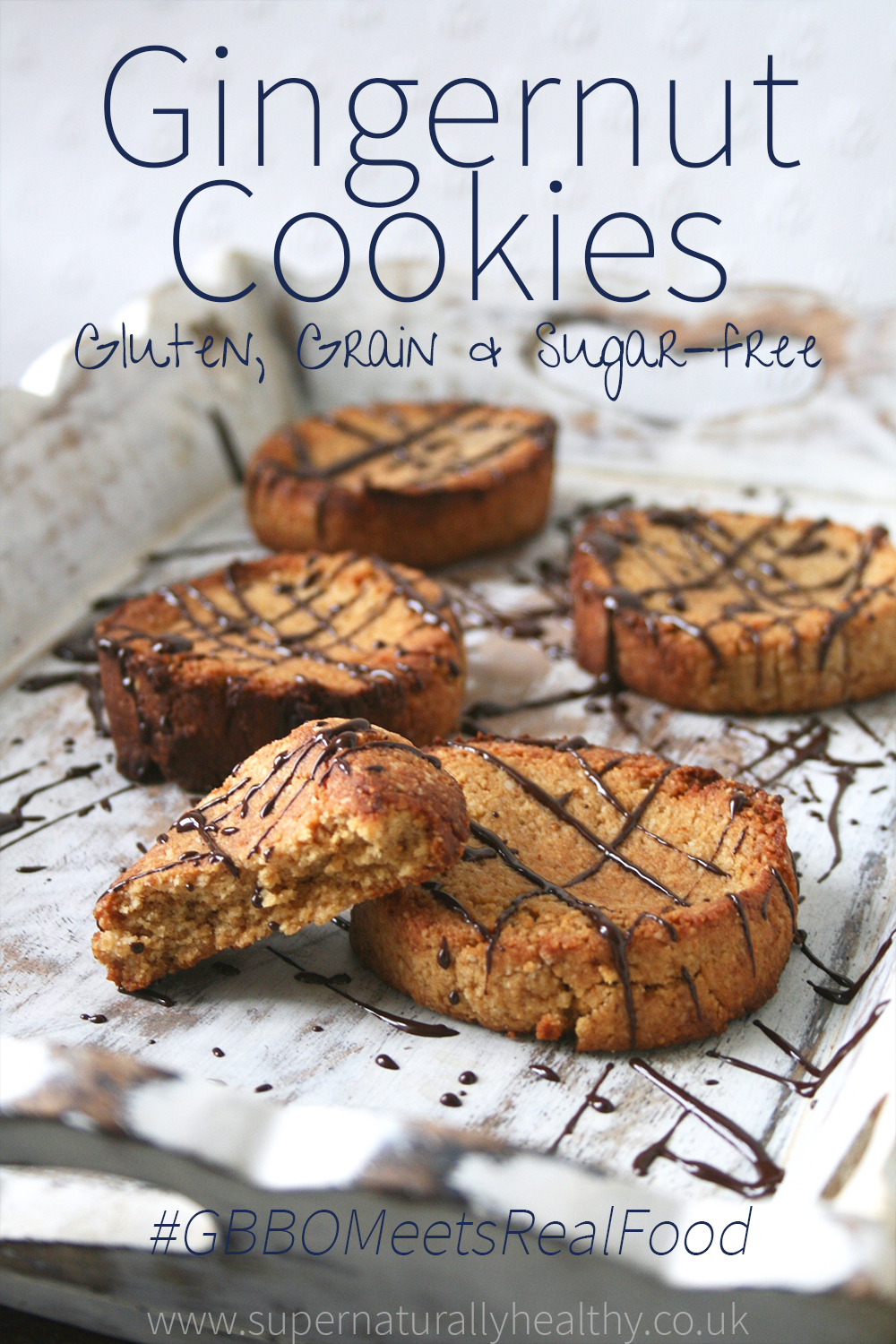 The gingernut is a biscuit that has played a rather crucial role in my life, especially in the younger years.
Sunday school always seemed to involve some dry stale gingernut and it was a biscuit that always left after everyone had snaffled the bourbon and cookies from our biscuit tin.
I have to say I was never impressed with them – too dry and tasteless for me (probably due tot he fact they were the cheapest one available!) Which is why for week two of the Great Britsh Bake Off Meets Real Food  blogging series I am reclaiming my love of the gingernut!
I LOVE ginger but I am definitely more of a cookie kinda gal that a hard biscuit one. I grew up loving the cookie monster so go figure!? But as I watched the Bake Off contestants I thought I would give this a go, revamp the tired out gingernut and make it into a new gooey classic! (Plus have already done a gingerbread house recipe here.)
(If you don't know I am making a real food, gluten-free version of one of the Bake Off recipes while it runs – see last week's recipe here)
This is the perfect combo of gooey cookie and gingery warming goodness. Made with organic butter (click here to read why butter is the bOMB for your health) but can be easily swapped for coconut oil, some coconut flour, and ground almonds. Plus these are like 'on demand' cookies. Simply cut a slice and cook as an when you want them as the mixture/cookie dough will last at least a week in the fridge or longer in the freezer.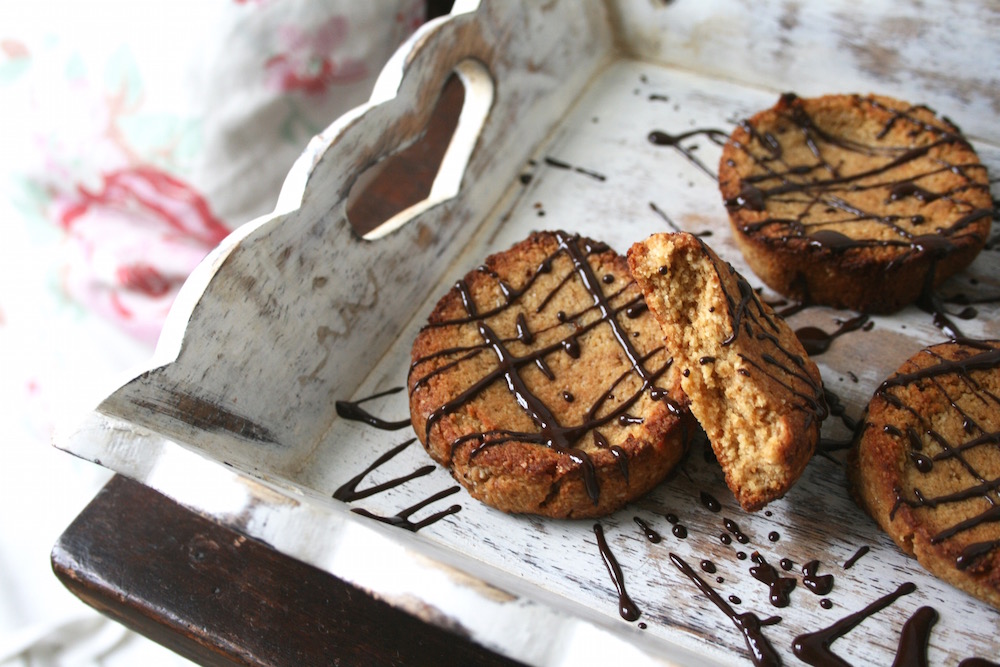 Feel free to use this recipe as a base for all sorts of exciting flavours – you could add cinnamon, fennel or whatever you like but I love these just as they are…so much so the first batch I made lasted 48hours in my house….and there are only 2 people living in it.
>>>>Get your coconut oil here, coconut flour here and raw honey here
And if you want more speedy, gluten, sugar and faff – free recipe for you and your family then make sure you grab The Sweet Treat Collection Recipe eBook here
Gingernut Cookies - Gluten, Grain & Sugar Free
A speedy cookie full of healthy gingery goodness!
Ingredients
150

g

ground almonds/almond flour

3

tbsp

coconut flour

50

g

coconut sugar

1-2

tsp

ground ginger*

a big pinch sea salt

100

g

butter

1

egg beaten

1

tsp

raw honey or molasses

DRIZZLE

25

g

85% dark chocolate
Instructions
Melt the butter and honey/molasses in a pan on low heat. Once melted stir in coconut sugar.

Blend the ginger, ground almonds, coconut flour and salt in a bowl.

Pour the slightly cooled melted butter mixture into the dry ingredients and stir in. Add the beaten eggs and stir until fully combined.

It should be a firm dough like consistency if a bit crumbly.

Place onto a sheet of cling film and roll into a long log like roll of about 8cm in diameter and place in fridge for hour or freezer for 20-30 mins.

Preheat oven to 160c fan assisted or 180 without a fan when ready to cook.

To cook simply slice about 1 cm thick slices and place onto greased baking tray, you can cook them 1-2 at a time or all at once.

Once on on the baking try get a clean spoon and push down in the middle of the cookies to flatten slightly.

Cook for 15-20mins or until golden brown.

Place on cooling rack and allow to cool completely before eating.

DRIZZLE

Melt the chocolate in a glass bowl over a pan of boiling water and once melted simply drizzle over cookies using a spoon OR feel free to dip the cookies in but note you may need more chocolate.
Notes
* depending on preference - I went for 1 3/4 tsp of ground ginger as I like it gingery but go for more or less depending on your preference.
Using molasses give a more treacley flavour which is lovely but raw honey is also fab - so feel free to try both!
Use coconut oil instead of butter to make these dairy free.