Cinnamon Breakfast Buns
Week 6 of the Bake Off and gaining inspiration from their creations and making a naturally healthy real food version (click here to read my criteria and how it all started).
So this week was sweet dough with lots of tiny buns being made, with lots of proving and knocking back and all that faff. So I took inspiration from all these cute buns and made some massive ones that are the perfect treat for breakfast. Inspired by the traditional cinnamon rolls these buns have a more rustic and

substantial taste – making them perfect for a running out the house breakfast. They also don't have any yeast in which is great if you are combatting yeast or fungal over growth as well as being grain free and GAPS legal. What a winner – as this saves you loads of time in waiting for the dough to rise – meaning that you can make a batch of these super quick in comparison to their grain filled relatives!
The glaze on the top is probiotic and full of good fats. The rolls themselves are jammed full of cinnamon and honey, with the dough being made from ground linseeds which are brilliant for getting those bowels moving ( see my constipation tips here) but also in providing essential fatty acid and omega fats. Who said you can't have cake for breakfast (well maybe not every day but these do make a fun breakfast treat).
These are so tasty in the morning with a cup of coffee that I had to put the away in my freezer before I devoured them all!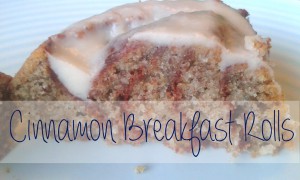 Cinnamon Breakfast Buns
A filling and tasty wholegrain buns stuff fun of cinnamon sweetness and sticky glaze - perfect for a breakfast treat.
Ingredients
The 'Dough'

225

g

Ground Almonds

75

g

Ground Linseeds -

you can omit this and just add the equivalent of Ground Almonds

75

g

Coconut flour

3-4

tbsp

Cinnamon

4

tbsp

Organic Butter

2

Organic Egg

2-3

Pinches

of Salt

The Glaze

3

tbsp

Coconut Oil

1

tbsp

Kefir or Natural Yogurt

1

tbsp

Raw honey

add more if you want it sweeter

1

tbsp

Coconut Cream

A few drops of Vanilla Essence
Instructions
Preheat oven to 170c.

In a bowl mix all the dry ingredients and make a well in the middle.

Add the eggs and honey into the middle of the well and gradually stir them into the flours.

Add the butter to the dough and it should now form a sticky dough. If your dough is still very very sticky add more coconut flour until it becomes more solid.

Make sure the butter is fully combined with not lumps left. The place the mixture in the fridge for 20 mins or the freezer for 5mins if in a hurry.

Get 2 sheets of greaseproof paper and place the dough on one and cover with the other - so the dough is sandwiched in between the greaseproof paper. The using a rolling pin roll out to about 3/4 cm thickness as evenly as you can.

Then sprinkle the cinnamon over the dough after removing the top greaseproof layer. Sprinkle it over as evenly as you can.

Then drizzle the honey as evenly as you can on top of the cinnamon.

Then grabbing the end of the parchment begin to roll the dough up as tightly as you can. You only really have one shot at this so take your time and go for it!

Then using a sharp greased knife cut the now sausage dough into 6 pieces with each piece being just over an inch wide.

Then place onto a large baking sheet and cook in the oven for about 20-25 mins until golden.

Allow to cool and make the glaze.

Melt the coconut oil to melt under a low heat. Then combine all the ingredients and a blender and process until smooth. Then once the buns are cool pour the glaze over the buns and place in the fridge.
Notes
If you want a more golden roll make sure you use golden linseeds as in this batch I used brown linseeds which make the dough brown.
If you leave the buns at room temperature they will be sticky but if your prefer less of a mess then keep in the fridge.
These yield 6 large bun but could also make it into 8 smaller.
---