As you discovered from my Coffee Morning Scrub post, I am a recovering coffee addict.
I try not to drink it too regularly, but I do love a good cup of coffee, especially now I have made it naturally healthy and healing!
Is coffee good for you? There has been lots of research to show that coffee can help lower the risk of Parkinsons, diabetes and colon cancer, plus it is full of antioxidants (although no studies have been done to show if these are absorbed into the body) and is thought to prevent tooth decay. However, the caffeine present can cause addictions, increase blood pressure and tire out the adrenal glands (see here and here for more).
Overall, the subject of coffee is mixed, some say evil poison to the body, and some say it's kind. The most important thing is to listen to your body, our bodies are always communicating with us through different symptoms and we are all different.  I personally think that any more than 1 strong or 1-2 weak cups of coffee a day can be detrimental to your health and adrenal glands and I prefer not to be addicted to anything.
I also spent over a decade not drinking milk due to gut and skin issues but butter was tolerated fine and it surprisingly creates a nice creamy coffee (I prefer it to using other plant-based milks). You can also just use coconut oil if you want to remove all dairy.
Also to support your insulin and other hormones I tend to add cinnamon, collagen powder, and often some medicinal mushrooms too.
Most people do this when they are trying to intermittent fast – which I don't really recommend in the 'typical' sense (find out my approach here) so best enjoyed after or with a meal.
Enjoy.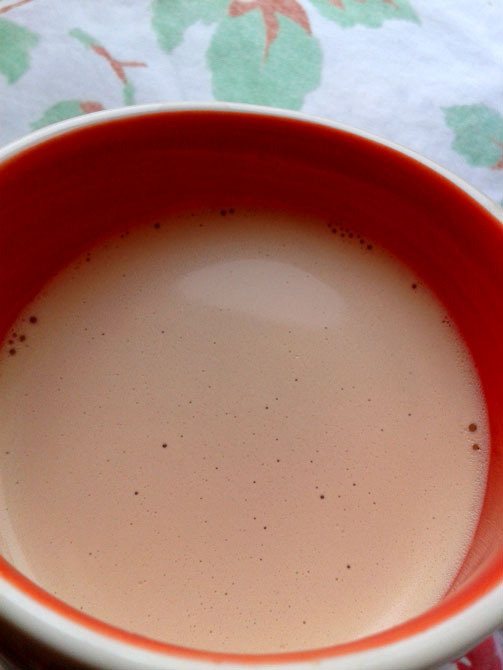 Healthy Cinnamon Coffee
A milk free, super low lactose, healthy healing cup of coffee.
Ingredients
1

average cup of Coffee

ideally swiss water method decaffeinated

1

tsp

cinnamon

1

tsp

honey

or to taste

1/2

crganic Butter OR coconut oil

1

collagen powder

1

tsp

medicinal mushroom blend

optional
Instructions
Brew your coffee how you like.

Put all the ingredients in a blender/jug for hand blender (coffee as hot as possible).

Blend for 15 seconds.

Pour and drink.
Notes
Try putting vanilla extract, cocoa or any other natural flavouring in, they are all tasty and much cheaper than cafe bought sugary versions.
Adapted from Wellness Mama
How do you take your coffee? Is it good, bad or just plain ugly?