This week I am looking briefly at a Easy Homemade Almond Milk Recipe, which is another new addition to the dairy free milk brigade. I even have seen a few coffee shops offer almond milk as an alternative but it is any good for you?
Last week we looked at coconut milk as an alternative to dairy for those of you who are lactose intolerant or unable to get quality dairy where you live (by quality I mean raw and organic, or at least unhomogenized and organic – which I know can be sold at some Waitrose stores, made by Duchy).
Well often shop bought stuff is filled with sugar, syrups or chemical fillers to bulk them out, here is some sample ingredients:
Spring Water,Raw Cane Sugar ,ALMONDS (2%) ,Calcium Carbonate ,Sea Salt ,Stabiliser: Carrageenan ,Emulsifier: Sunflower Lecithin
Spring Water,Almonds (2%) ,Calcium Carbonate ,Tapioca Starch ,Sea Salt ,Stabiliser: Carrageenan ,Emulsifier: Sunflower Lecithin ,Natural Flavouring
Water,White Sugar ,Almonds (1.5%) ,Tricalcium Phosphate ,Sea Salt ,Stabilisers (Locust Bean Gum, Gellan Gum) ,Emulsifier (Sunflower Lecithin)
Plus they are expensive and can sometimes taste weird and a bit powdery!
The good thing though about almond milk is that is jam packed with minerals and some calcium too, which makes for a good dairy alternative and will not curdle in hot drinks (like soya milk will).
But again the best way of getting almond milk is to make it yourself. It is a much cheaper way of 'buying' it and surprisingly quick. I love its creamy nutty taste and can happily drink it on its own (I am partial to a glass of milk when I a eating curry!)
So why not give it a try?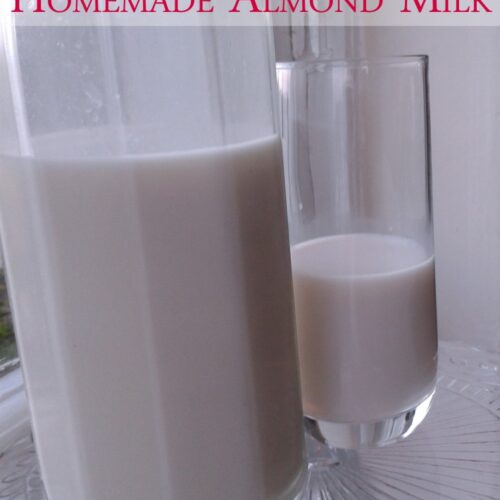 Almond Milk
A nutty and delicious milk alternative that is quick and easy to make!
Ingredients
200

g

Whole Almonds

1000

ml

Filtered Water

5

Drops Vanilla Essence

sugar free

1

tsp

Raw Honey

Good pinch of salt
Instructions
Soak the almonds for about 8 hours (you will see they go plump).

Drain the almonds and then place in blender with all the water.

Blend for about 1-2 minutes.

Add other ingredients.

Pour into a muslin cloth in a sieve or use a nut milk bag wring it out - ensuring all the liquid comes out.

Store in a glass bottle for about 3-4 day in the fridge.
Notes
Love it? Just double the recipe to make more!
Adapted from From all the other almond milk recipes out there!