Instant Porridge – Grain/Gluten/Dairy Free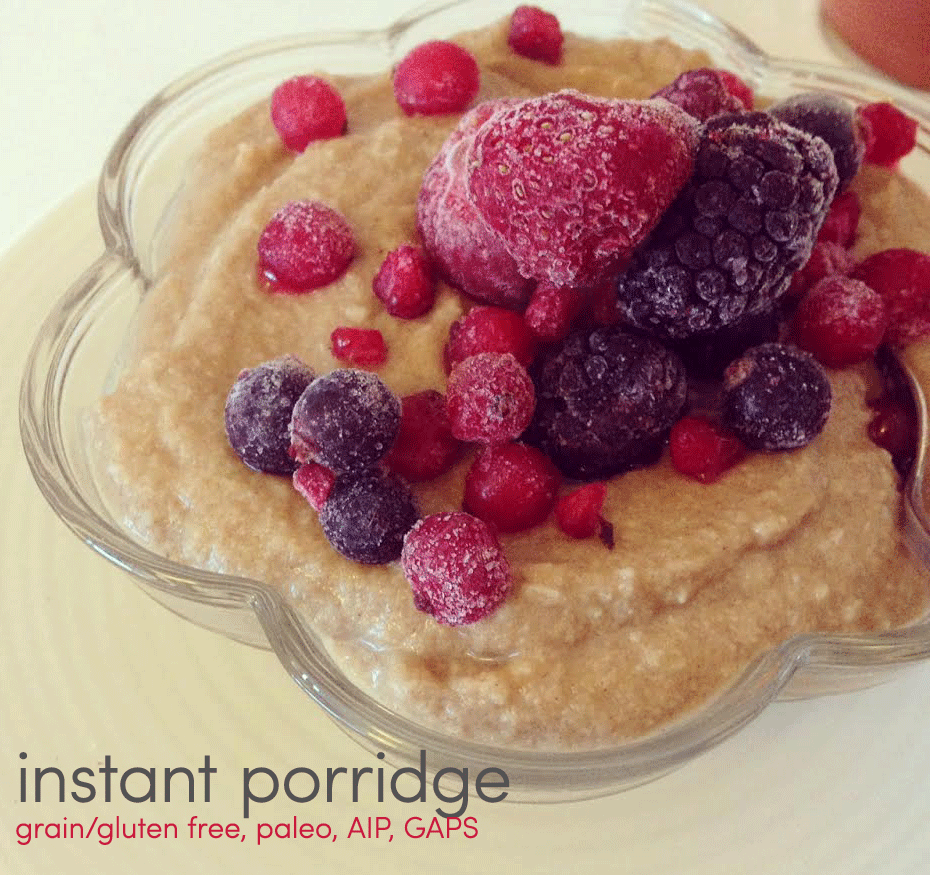 Often breakfast can pose a bit of challenge when you are on the path to greater health and wellbeing. Mornings are often rushed and you feel lucky to get out the door with some half decent clothes on never mind a healthy breakfast!
Yet we all know breakfast is one of the most important meals of the day especially when you aiming to heal and nourish your body. Whether you are going gluten free, aiming to remove grains, follow a paleo, vegan or other diet breakfast is key. It sets you up for the day and sets the tone for what you will eat the rest of the day.
Recently I did the Auto Immune Paleo Protocol for 13 days to see if it would help some of my ongoing skin and energy issues (more on this in another post) and breakfast was what stumped me. Normally I have eggs but they weren't allowed and I was feeling a bit too cold for a smoothie which was why I was so happy to stumble upon this awesome recipe.
It's literally is instant, no faffing or boiling and it tastes great. I have tried it with maple syrup, frozen berries, homemade jam, coconut cream and loads more. You literally put it in a bowl, add boiling water, stir and serve – a super naturally healthy version of ready brek (I loved that stuff as a child!). So whether you are trying to drop a few pounds, heal your gut or just save time whilst getting healthy then head over to my shop, grab yourself some coconut flour and flakes and your ready to go!
Enjoy and let me know what combinations or toppings you try:)
Instant Porridge - Grain, Gluten, Dairy & Sugar Free
A instant porridge recipe that makes breakfast simple whilst still adhereing to GAP, ,AIP or paleo protocol. and
Ingredients
3

tbsp

coconut flour

3

tbsp

desiccated coconut

pinch

salt

1/2

tsp

cinnamon

tbsp

of raw honey/maple syrup/sweetener of choice

200-250

ml

boiling water or milk

handful of berries - optional
Instructions
Mix dry ingredients in a bowl and then mix in the boiling water. Add more water for a more liquid porridge and less of a thicker porridge - according to preference.

Top with berries/banana/seeds/nuts/yogurt and serve immediately.
Notes
You can pre mix a large amount of the ingredient and store in a jar to save even more time in the morning.
---