Creamy Cauliflower Soup – Dairy Free & Delicious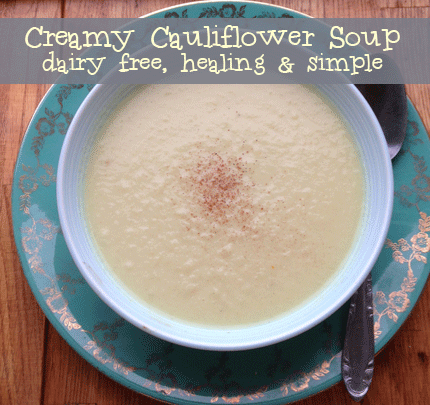 I love this time of year. Something about the new year that makes me want to organise my life, clear out my wardrobe, buy random gadgetry (weird I know?) and of course eat soup.
For those of you who are part my wellness tribe and community and receive my personal emails then (sign up here if you want to be part of the fun) then you will have gotten my mini guide to detoxing your life and body last week and in it I mention soup. Soup is a fantastic, simple, cheap and easy way to reset your bodies balance after the festive feasting. It means you get loads of vegetables and cosy comfort food without any junk.
I do love smoothies and juices but in winter I eat a lot of soup and I always include it in any of periods of detoxing or gut healing. Tomorrow I will embark on another week of eating to heal my wonderful gut and this will definitly be on the menu. Filled with homemade bone broth/stock it is full of amazing benefits, which you can read more about here, making it great for an easy way to boost health, weight loss and that regain that fabulous feeling.
And (shameless plug alert!) if you are feeling the need to detox, and by that I mean eat cleanly, nourish your body and feel fabulous, but have not idea what advice to listen to or how to begin then make sure you sign up for my Flourish eCourse as you will not only be guided through a short no-nonsense detox with a group of other wonderful people to make sure you feel fabulous you will also learn all the tools you need too get and stay slim! (Don't worry the detox involves eating tasty things, so much so people have said it didn't feel like a detox at all!)
Otherwise have a fabulous Monday and let me know what your favourite soup recipe is or you best 'feeling fabulous' tip is in the comments below!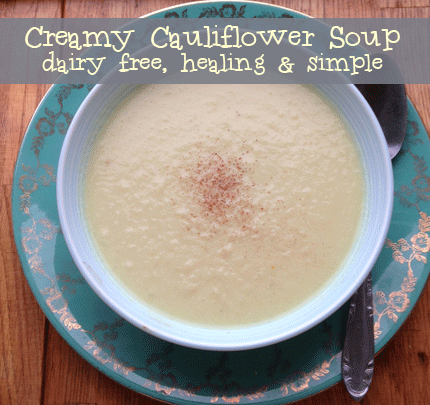 Creamy Cauliflower Soup
A simple creamy, dairy free soup!
Ingredients
1/2

cauliflower head roughly chopped

2

garlic cloves

salt to taste

25

g

creamed coconut

500

ml

homemade bone broth or other stock

500

ml

water

or to add until desired consistency

1

onions chopped
A good pinch of the following ground spices
Instructions
Saute the onion in some fat for 1-3 minutes on low heat .

Then add all the other ingredient and bring to boil.

Simmer with pan lid on for about 15-20 minutes or until cauliflower is soft.

The blend until smooth with hand blender and season to taste.
Notes
This would also be great cooked in a slow cooker overnight .
Add more water if you leave it to simmer for longer as it will have evaporated.
---