Matcha Coconut Almond 'Fudge'
I love to have a little something with my afternoon cups of tea.
Not something massive but something tasty and that will keep me going until dinner or at least until pre-dinner:)
This has been especially true this week as I have been madly finishing and prepping everything for my new 21 Day Sugar Challenge where I am going to guide you through ditching the refined sugar addiction so you can double your energy and regain your GLOW! I am making a whole bunch of new recipes that will be sent to everyone each week and these matcha fudge are one of my creations (along with peanut butter hummus, chocolate orange smoothies and tamari spiced trial mix!!)
But this Matcha Coconut Almond 'Fudge' is super simple to make this is a case of blend everything in your MagiMix (or whatever you have – I used a this magi mix in red) for about 5-10 mins while you do something else and then allow to set in the fridge.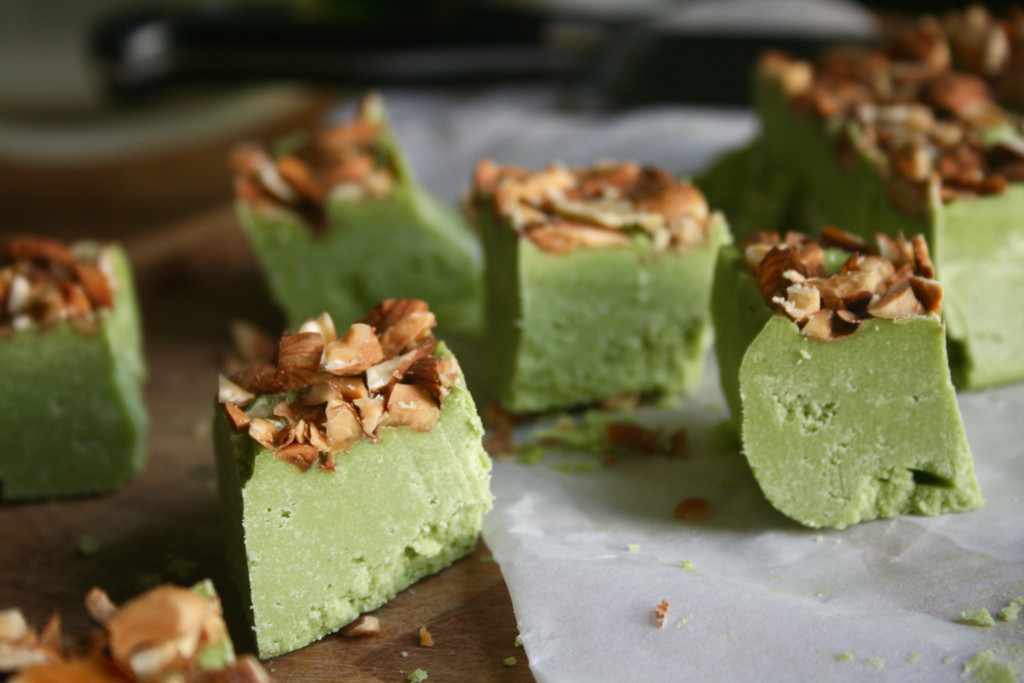 I got sent some Matcha tea powder by Pure Chimp tea kindly and I have to say I tried the whole Matcha latte thing and I was not a fan (tasted like grass to me) but I have wanted to try Matcha tea for a long time as I have read of its many health benefits . The tea I used is:
137x antioxidants of regular green tea
Boost your metabolism
Equivalent to 10 cups of green tea in 1 serving
Ceremonial grade matcha green tea powder from Japan
Improve your skin from within. Only 24p per serving
Increase energy levels for up to 6 hours
Caffeine without the anxiety (35mg per serving)
Anti-ageing properties
So pretty powerful stuff! I am super sensitive to caffeine but I found this didn't make me too jittering or cause me any issues. Plus they give 5% of their profit to charity which I love so I would definitely give it a whirl and you can buy it here. Its definitely a good store cupboard item and a great way to natural boost your energy.
So grab your food processor and make your own fudgey, sugar, grain, gluten, vegan and super healthy afternoon snack!
(You can buy creamed coconut normally in world food aisle at super markets but I get organic creamed coconut here. Added collagen is entirely optional I am just adding it to everything these days to help with my own healing – more on that another day!)
Matcha Coconut Almond Fudge
Ingredients
200

g

organic creamed coconut

1.5

tsp

matcha tea

2

tsp

honey

2

pinch

salt

75

ml

water

1/4

tsp

cinnamon

1

tbsp

collagen - optional

TOPPING

large handful of almonds chopped
Instructions
Cut the creamed coconut into small chunk and then place all the ingredients apart from water in a food processor. Turn on and blend and slow add the water until a smoothie silky paste is formed. This will take between 5-10 mins depending on processor and you may need to stir the mixture manually a few times in-between.

Place the mixture on some grease proof paper and speed until about 1 inch thick and place on tray of glass dish.

Sprinkle the top with chopped almond and gently push them into the fudge to they set into it.

Leave to set for an hour then chop and serve.
Notes
This will store and last in the fridge for about 2 weeks or longer in the freezer.

Do you like Matcha? What do you use it for?
---