It happens to us all. We get too little sleep and have a crazy full day work ahead of us and just need something to keep us going between lunch and dinner.
And with a lack of sleep comes often an imbalance blood sugar (meaning insulin spikes – the one thing we need to work at avoiding) and with crazy blood sugars comes crazy cravings.
I had a day like this recently with 5.30am wake up call for a flight and then a full day of my one to one clients. Whilst I LOVE client work, I was pretty tired and ready for the nap in the afternoon and whilst I am a huge fan of napping and sleeping when needed sometimes it's not always possible or appropriate (i.e don't suddenly curl up in the corner of a team meeting in your office!)
And that was when I made a batch of these up and have now got a stash in my freezer for those afternoon peppermint tea break boosts. They aren't super sweet or decadent, like eating dark chocolate – edgy but gooooood.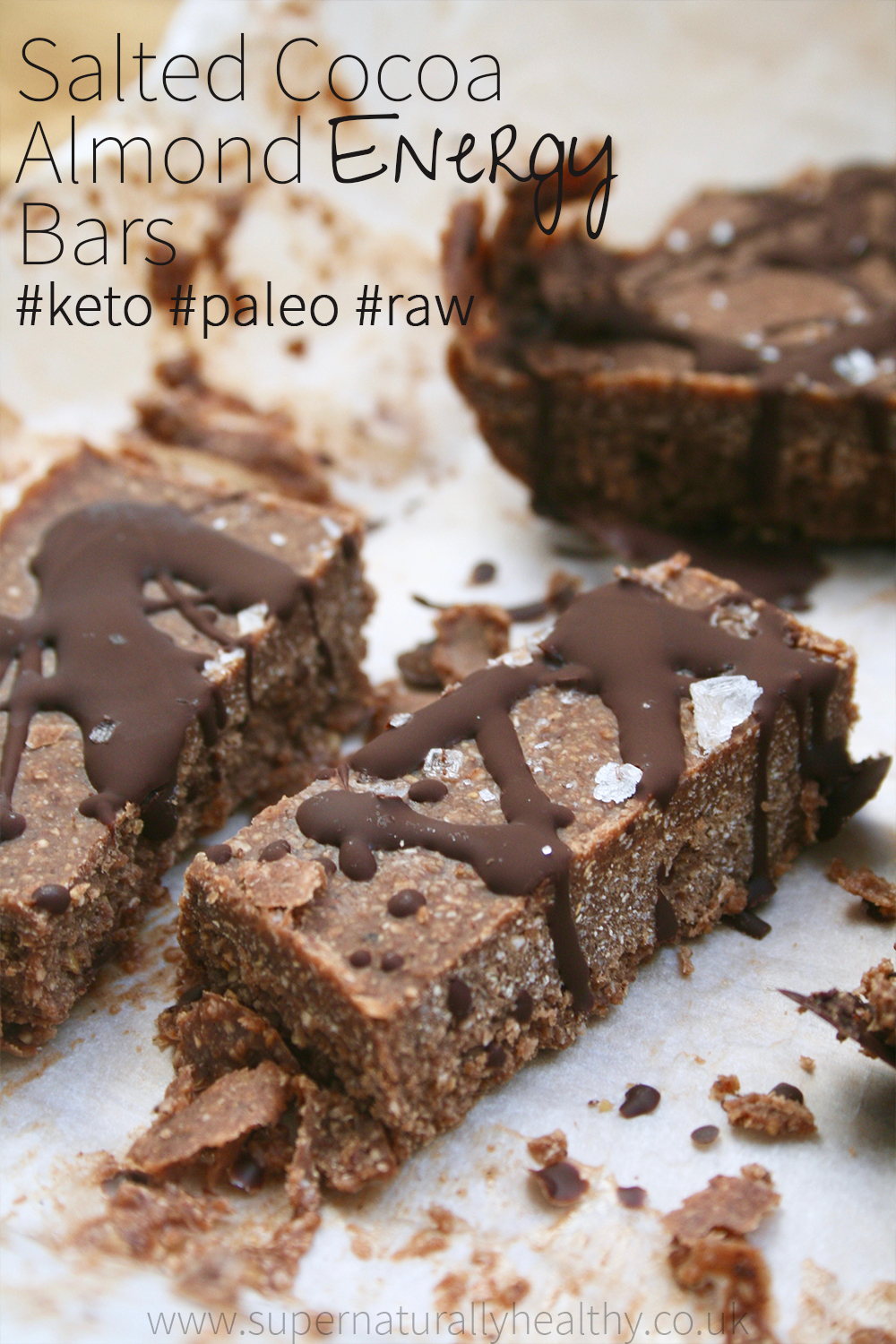 What makes these super energising is how high-fat they are. Filled with cacao butter, coconut oil and almonds these are going to help stablise your blood sugar and suitable for a high-fat low-carb lifestyle. Plus the organic cocoa and maca gives a gentle energy boost to see you through and the sea salt is great for all round nourishment. #ilovesalt
I use this cacao butter, this maca powder and always buy my cocoa in bulk here. So grab your food processor (I MagiMix and its a gift from God – seriously) and blend these up so you can have some awesome snacks to hand.
Annnnnnd if you want another 6 more FREE recipes that are like this – sugar and gluten free and fabulous alternatives to your everyday treats and snacks then make sure you sign up for my free Natural Sweetener Recipe eGuide below.
Superfood Chocolate Bark Bars (No Bake)
Ingredients
BASE

200

g

almond

or mixed nuts

several large pinches of sea salt

1

scoop coconut oil

100

g

cacao butter

100

g

desicated coconut

4

tbsp

coconut flour

2.5

tbsp

organic cocoa

25

g

ground linseeds

1/4

tsp

cinnamon

tsp

vanilla powder or extract

2

tsp

maca powder

2-3

tbsp

maple syrup/honey/coconut nectar

OR

2

tsp

stevia

DRIZZLE

25

g

85% dark chocolate

1-2

pinches

of sea salt
Instructions
Melt the cacao butter and coconut oil in a pan.

Meanwhile in a food processor blend the nuts until a smooth paste forms.

Add in all other ingredients and blend until a thick paste is formed.

Pour into a grease/lined dish and sprinkle with sea salt flakes then allow to set in the freezer for 2-3 hours or overnight.

DRIZZLE

Melt chocolate adn then drizzle over the bars and add a little bit more sea salt.

Allow to set in fridge or freezer.
Notes
You could also use any other type of nut instead of almonds.