I have been obsessed with this smoothie for the past week. A sudden obsessed with cherries has overtaken me. Not sure why as it's not cherry season but I did only just discover that Sainsbury's sells them in the frozen section so #lifewins
Plus I am in a long 2-year process of having holistic dentistry treatment done and that = sore mouth and swollen face. I have a new device added to my mouth last week and Ouch. So cold liquid has been my saving grace.
But this kick-ass smoothie is a fab example of the fabulous fat burning four food – Fat Veggies Fibre Protein! All of which help reduce your hunger, keep you full, support better energy, weight loss, hormones and mood – BOOM.
This smoothie is packed with fat from the nut/seed butter and chia seeds, fibre from the chia seeds, cauliflower and cherries, protein from again chia seeds, and collagen, veggies from the cauliflower and greens powder (I LOVE this one it tastes like chocolate milk!).
So as you can see it is quite the way to start your day (or end or have in the middle!) and if you're not a huge fan of cherries then fear not simply swap in for another fruit – maybe a banana or some raspberries or pear!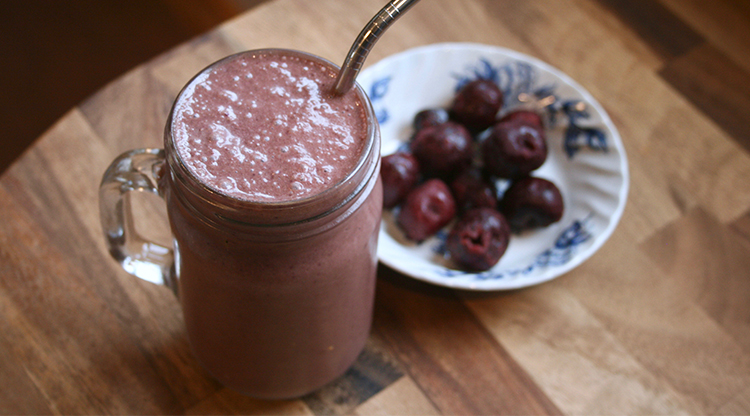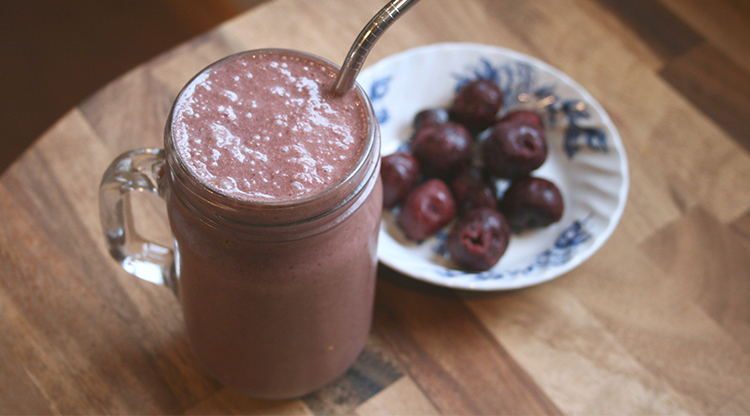 Cherry Chocolate Smoothie
A delicously speedy smoothies full of the fabulous fat burnign four!
Ingredients
2

handfuls frozen cherries

scoop of collagen

pinch

salt

2

single florets of frozen cauliflower

300

ml

water/almond milk/coconut milk

carton

2

tbsp

sunflower seed/almond butter

1/2

tsp

of greens powder - optional

tbsp

cocoa

heaped

tbsp

chia seed
Instructions
Blend everything up in a blend for 1-2 minutes.

Serve and enjoy!
Notes
I wouldn't use fresh cauliflower in this as it taste more 'cauliflowery' - not sure why but it's a less strong taste when frozen.
Feel free to add more milk or liquid if you like it runnier.