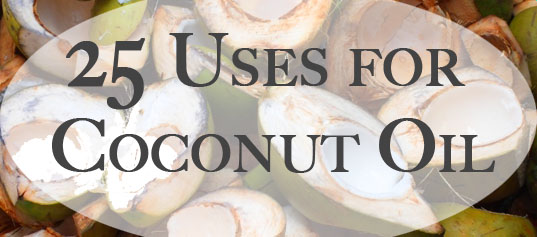 A wee while ago I shared with you why I love coconuts so much, especially its oil. It has so many amazing benefits, honestly there are TONS, which you can read about here. But not only is it highly beneficial it also had millions of uses!

Today I am going to share 25 of them with you, there are however million of uses, but I am not going to giveaway all my secrets at once! But don't worry as the months go by I will and you have already probably noticed that it is included in nearly all my recipes (that or butter – butter is a prominent part of my life too!)
Uses for Coconut Oil
1. To moisturise you face. Its gentle and so effective – plus you only need a tiny amount.
2. An all natural tropical massage oil.
3. For an easy deodorant add a tiny bit of bicarb.
4. To make homemade chocolate with (melt with honey and cocoa and then set = natural chocolate goodness).
5. A natural nipple cream when breast feeding.
6.Use to treat any rashes or keratosis pilaris.
7. Help fight against eczema.
8. To fight Athletes foot.
9. Brilliant on chapped lips.
10. To go in any smoothies . Just ensure you blend it for long enough.
11. As suntan lotion. Naturally SPF of 4-6.
12. As hair conditioner. Place a tiny bit on ends of hair after showering and 'no pooing'
13. Intensive hair mask. Cover hair and leave for a few hours to get a big moisture boost. (I don't recommend putting on your roots unless your hair is very dry)
14. Use for oil pulling in the mornings. A great way to look after you teeth where you swish oil around in your mouth for 10-20 min as soon as you wake up.
15. Aftersun if you burn your skin.
16. Prevent hay fever. Dab around the nostril and corner of eye in order to catch any pollen.
17. To make my Coconut Butter Bites.
18. To fight of yeast infections. Consume 1-2 tbsp a day.
19. To make naturally healthy icing. See an example recipe here.
20. To make yummy caffeine free hot milky drinks. See here and here for my favourites.
21.Use it to get rid of hard skin on your feet. Plonk some on at night then put on a pair of socks = silky feet!
22.Mix with bicarb to create a quick exfoliator.
23.Energy. Lacking in energy – get coconut oil into you drinks and life!
24. A safe and brilliant oil to fry and saute with. Pancakes anyone?
25. Boost your metabolism and burning fat with this awesome oil.
Oh I could go on and on, the list is endless….
But I shall call it a day there. Can you think of any other uses- I would love to hear how you use Coconut oil. Stay tuned for more recipes and amazing uses of this tropical oil!