Organic Decaf Cold Brew Coffee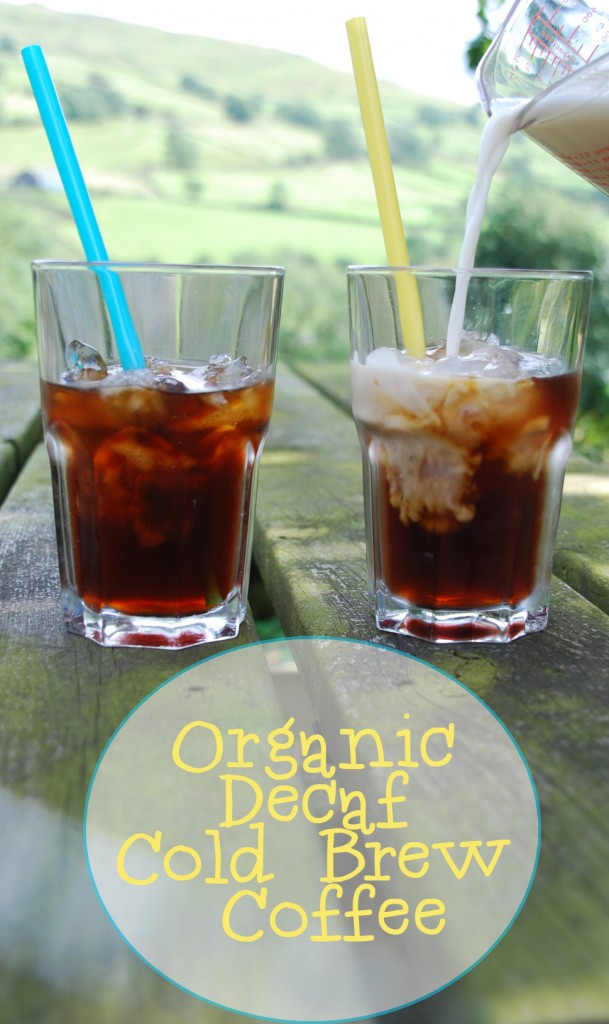 Yes I will confess from the out set , that I love a good a coffee fad.
I am one of those weirdos who loves to know the difference between a cold brew, aeropress or drip filtered coffee and totally delight in trying them all. I was tried as a barista by an artisan coffee company in London and although that stint in my job life was not that long it left a large 'coffee geek' stamp on my heart. (See other coffee recipes here).
Now you know I don't recommend lots of caffeine and I don't think its great idea to drink a lot of coffee (find out here for why) due to the acidity, the caffeine and how dehydrating it can be which is why I always stick to organic and swiss water method decaf coffee.

Organic , fairtrade and swiss water method decaffeinated

If your not a coffee fan then you may understandably wonder what the deal is with coffee. Why get so excited and why invest you money in it? Well for me I think it is the ritual, the stopping and pausing, the balanced bitter taste (not one for sweet drinks) and the fact that it makes me feel like I should be the CEO of a massive business when I drink it, living in New York and shouting 'wheres my coffee!" (Go on, that surely cant just be me?)
Why cold brew? If you invest in good coffee often it can be ruined with hot water or our poor brewing abilities, so by allowing it to brew cold you get all the true flavours without any of the bitter burnt-ness that is so often the case with plungers or filter machines or lets face it, our own ineptness!
So here is a simple DIY why of making some decaf cold brew coffee which I pretty much copied from this website highlighted by this brilliant blogger.

It stores in the fridge really well and its makes the perfect iced latte in a flash – I took some in a flask last week on a long car journey to the Lakes and was perfect! Plus I felt very smug as my own organisation and coffee prowess – before I spilt it on my trousers and then forget about the half drunk contents and now have a furry flask to wash …
Organic Decaf Cold Brew Coffee
Easy organic decaf cold brew coffee!
Ingredients
5

tbsp

Organic Decaf Coffee

600

ml

filter water

pinch

salt

TO SERVE

100

ml

almond milk each

300

ml

cold brew coffee

Ice

Vanilla essence

optional

Raw Honey

optional
Instructions
In a jar or (fresh press - makes it easier to filter later) mix all the ingredients together.

Seal and leave at room temperature for about 24 hours.

The using a coffee filter and sieve (or by pressing down the french press) remove the coffee grounds.

Store coffee in seal jar in fridge.

To serve fill a glass with ice and add 300 ml of the cold brew coffee, then top with 100 ml of almond milk and any sweetener you wish.
Notes
If you like your coffee strong add 1-2 more tbsp of coffee tot the mixture. Please bear in mind decaf coffee is normally weaker so add more coffee than you normally would for caffeinated.
Adapted from Here
Whats you favourite ritual? Coffee fan or hard core tea drinker?
Get your FREE Natural Sweetener Recipe eGuide HERE!
---