Salted Almond Fudge (Grain free, Vegan, Dairy Free)
There is something very satisfying about the texture and consistency of fudge.
Growing up I had holidays every year in Devon which in my mind, meant 2 weeks of a lot of fudge and Cornish pasties. So needless to say I have in the past eaten my far share of body weight in fudge. And as I don't think you ever need to get deprived with your food choices, just creative and wise, in true Kezia style I have created this healthier version.
Normally fudge is made from sugar, butter and condensed milk whilst this Salted Almond Fudge (Grain free, Vegan, Dairy Free) version has, you guessed it, almonds, low glycemic index medjool dates (so not need to worries about crazy spikes in your blood sugar) and healthy fats from either coconut oil or butter. Plus the joy of this recipe is it is simply blend and go, or if you feel particularly fancy you can top it off with a layer of chocolate but really that is as faffy as it gets.
Plus there is one more secret ingredient….can you guess what it is???
Chick peas! They are a key player in helping create the Salted Almond Fudge (Grain free, Vegan, Dairy Free) consistency and making this the most nutrient dense, fudge like, treat EVER! So all in all this makes for filling fudge that will keep your energised and full for hours!
<<<Don't forget this Friday marks the start of my next 10 Day Green Smoothie Challenge. So if you are wondering about what all this green smoothie chat is about, nervous about drinking spinach (understandable!) or just simply want to get that healthy glow in just ten days then make sure you sign up here.>>>
It is stored in the freezer but don't worry if you have sensitive teeth my husband can chomp these fine and the freezer just adds to the fudge like consistency (and means it is 'locked away' and you don't eat 7 cubes in one go!)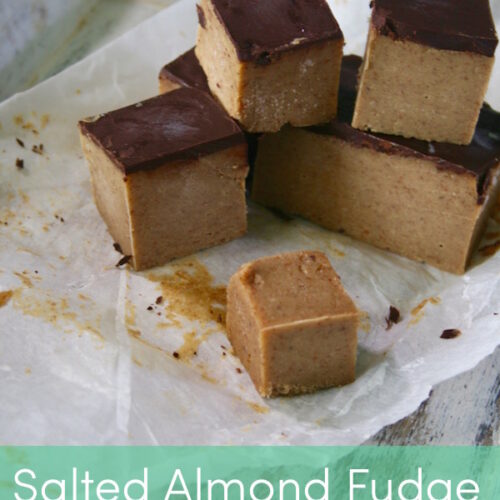 Salted Almond Fudge
Easy healthy dairy free and vegan fudge to make your tastebuds and tummy sing!
Ingredients
FUDGE

200

g

almonds

150

g

chick peas

8

medjool dates

2

tsp

salt

2

tbsp

coconut sugar

tbsp

vanilla

150

ml

melted butter or coconut oil

TOPPING - optional

50

g

dark chocolate

tbsp

coconut oil
Instructions
Melt your chosen fat and prepare a greased and lined glass dish to allow it to set.

Place all fudge ingredients in food processor and blend for about 10 minutes or until smooth and with a thick stick batter like consistency. It takes a while to get it smooth.

Once a sticky batter/dough is formed then push into your chosen dish and ideally keep it about an inch in thickness.

Place in freezer for an hour.

Once solid melt chocolate and oil in gas bowl over pan of boiling water. Once melted pour over frozen fudge and place in freezer again to set.
Notes
I soak and then dehydrate my almonds before using them for added flavour and to make them more digestible. And I soak and sprout my chick peas too.
You need medal dates for this normal one won't give you the same texture or fudgey-ness!
Feel free to use any nut you like but i have only made it with almonds.
As always taste the recipes as you go along and add addition salt or sugar to suit your tastes.
To find out more about sprouting then click here and to make your own vanilla essence then click here.
And what is your favourite secret ingredient to use? Chick peas, hemp…gravel 😉
---