This week is truly wild here at keziahall.com
Not because I am about to head off for my first live weekend retreat (!!!), or because I am making goodies bags for said retreat, or due to the fact that I have just kicked off my biggest challenge ever with hundreds of folks.
No. It's wild because I made and ate bread.Good old bread.
CRAZY. Good old bread…
For this low-ish carb,  grain and gluten free gal, bread has not been a part of my diet for about 2-3 years as I have been healing my gut and optimizing my digestion, energy, and mood.  And to be honest I haven't really missed it until recently when I have had a bit of a hankering for bready type things. Maybe it's cause I have been upping my HIIT training and weight training (seriously that sounds way more serious and legit than it is – it's me with my fav youtube trainers in my pj's at 7am) and so may be needing more carbs. Or maybe I just want to eat bread again?
Plus as I am doing a Great British Bake Off Meets Real Food blog series, and last week it was all about bread so an epic bread recipe was necessary. (Click here to read part one and part two of #GBBOMeetsRealFood series)
When it comes to bread I can't be arsed with the whole yeast, knocking back thing and my main aim to make as recipes faff – free as possible, that are also super healthy and with zero gluten and ideal zero grains too. So this recipe is based on soda bread which is an instant bread I used to make a lot of as a student.
As with all my recipes, this is 100% gluten-free, yet doesn't taste like a brick (hooray!). Made from buckwheat, which is actually not a grain but a seed, and naturally gluten-free. I am a tad obsessed with buckwheat at the moment as my body seems to tolerate it really well and it is the perfect solution for gluten and grain-free baking!
Grab your buckwheat flour, tapioca flour, and natural yogurt and get ready to make the simplest bread recipe EVER!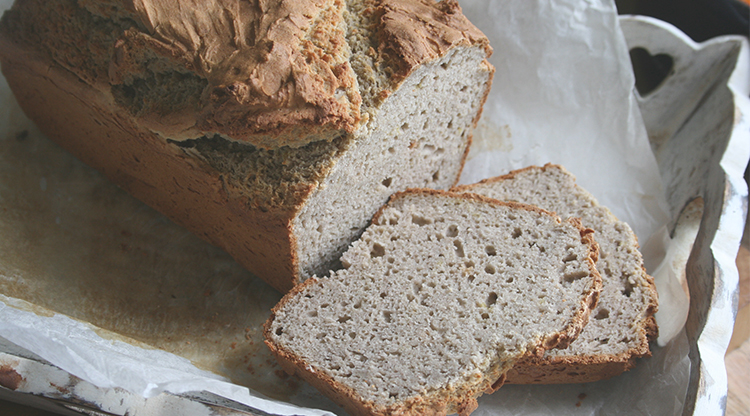 Buckwheat Soda Bread - Gluten & Grain Free
A speedy gluten, yeast and faff free loaf!
Ingredients
500

g

buckwheat flour

100

g

tapicoa flour

2

tsp

salt

1

tsp

bicarb

500

g

natural yogurt

few grinds ofpepper

1

tsp

coconut sugar

2

eggs
Instructions
Preheat oven to 180c (fan assisted).

Mix the flours, salt and bicarb in a large mixing bowl.

In another bowl or jug mix the yogurt and eggs together thoroughly.

Then create a hole in centre of your flour and slowly pour in the yogurt and egg mix and stir flour in gradually.

Make sure all the flour is incorporated in, it will probaly be slightly sticky.

Then place into a well greased and lined loaf tin (I used one that is roughly 11cm x 22cm) and place in middle to lower half of oven for 45 mins or until brown.

Allow to cool and serve with toppings of your choice...but butter is never a bad choice!
Notes
This is a super simple and speedy loaf but is best eaten fresh. From day 2 onward toast it for best results.
I placed pre-sliced peice in the freezer for GF bread on tap.
Feel free to add more exciting flavour like basil, mixed herbs, sun dried tomatos etc.