Summertime Romaine Smoothie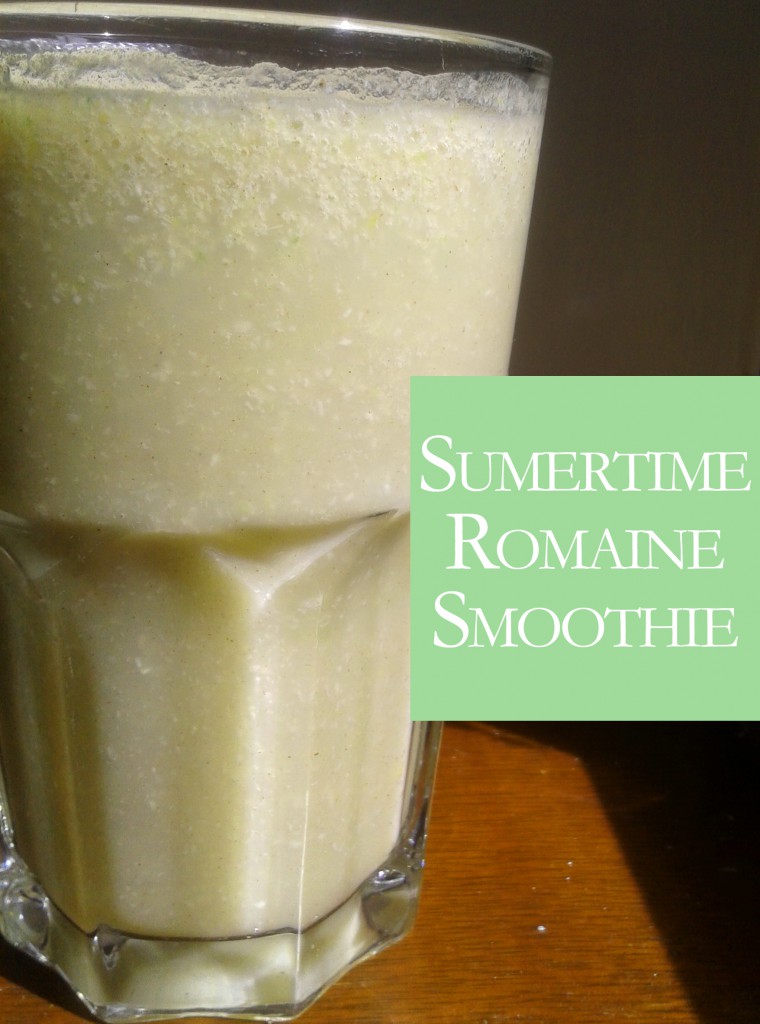 With a heat wave hitting the UK (even Scotland people!) and posting about the wonders of Kefir I thought it only fair to give you a super quick and tasty way to incorporate it into your summers days.
This is also the evidence of my new found vegetable obsession – the romaine lettuce. I am not a huge salad fan except during hot days when I love a good plate of leaves. When the sky is grey and rainy however eating salad and leafy vegetables is not so appealing, yet there are loads of nutritional benefits in eating lots of these leafy green vegetables. My answer to eating plate after plate of salad? Put it all in a smoothie.
Its Benefits:
1.Romaine Lettuce
This smoothie contains a whole lower (root) half of a romaine lettuce which has a surprising amount of health benefits of which I am only realising. This exert taken from incrediblesmoothies.com about the surprsing benefits of this leafy wonder!
Protein. Believe it or not, romaine lettuce is 17% protein with 7.7 grams per head. It is also a complete protein! That means that it has all 8 essential amino acids, 9% RDA of some and up to 26% RDA of others.
Calcium. One head of romaine has 206mg of calcium (about 21% RDA). Blend it with calcium rich fruits like papaya and oranges and you'll get more calcium than a glass of milk!
Omega-3s. One head of romaine lettuce contains 44% RDA of Omega-3 essential fats. Forget the tainted fish oils, reach for some leafy greens instead!
More Vitamin C Than An Orange. One head of romaine contains 167% RDA of vitamin C while an average sized orange contains only 92%.
Iron. One head of romaine contains 6mg of iron, which ads a significant source of iron to the diets of vegetarians and vegans.
Romaine Lettuce is Rich in B-vitamins: Thiamine (B1) – 38% RDA, Riboflavin (B2) – 32% RDA, Niacin (B3) – 12% RDA, Pantothenic Acid (B5) – 18%, Pyridoxine (B6) – 36 %, Folate (B9) – 213%!
Water. One head of romaine provides 16% of your daily water needs with about 20 ounces of water per head!
Rich Source of vitamin A (as beta-carotene) and K. As with most leafy greens, romaine is super rich in beta-carotene with 1817% RDA per head and has 535% RDA of vitamin K.
Low Levels of Oxalic Acid. If you have problems with calcium oxalate kidney stones, romaine lettuce might be a good choice for leafy greens since it is very low in this anti-nutrient.
Mineral-Rich. Don't let the lighter color of romaine lettuce fool you. This not-so-dark leafy green is rich in minerals. One head contains copper (33% RDA), magnesium (22% RDA), manganese (42% RDA), phosphorus (27% RDA), potassium (33%), selenium (5% RDA) and zinc (13% RDA).
You will now be noticing more romaine lettuce in my Healthy Happy Day of Eating posts after my latest research!
2.Cinnamon
This spice cupboard favourite is brilliant at keeping your blood sugars level, preventing those dangerous peaks of insulin release and sugar rushes which can lead to weight gain, dizziness and increase our sweet tooth cravings. I add it to everything and no longer live with those dizzy, 'need food now or I may faint/kill someone' spells.
3. Kefir
A staple of my diet – see here for why.
4.Lime
Little limes help boost vitamin c and aid digestion as they promote the peristaltic motion of digestion (the movement of food through the intestines) as well as a whole host of other healing benefits .
5.Ripe bananas
These add the sweetness to this smoothie and contain potassium (needed for protein building)and when ripe (with black spots) are very easily digested by the body as the sugars have already begun to be broken down, which again prevent that sugar spike. The ripening also increases the level of antioxidants – which with their age and cancer fighting properties can only be a good thing.
So enjoy the sunshine and its Vitamin D making capabilities, with a glass of this healing probiotic goodness.
Recipe Card
Summertime Romaine Smoothie
A refreshing quick summer time smoothie that will cool you down and provide many health benefits!
Ingredients
1

Romaine lettuce root

cut a romaine lettuce in half and use the lower/root half - remove stump art

2-3

tbspn desicated coconut

juice of 1 lime

1-2

cups

of homemade kefir liquid

whey or curds or unstrained liquid

1 1/2

very ripe bananas

1

tspn cinnamon

filter water if desired
Instructions
Place all the ingredients in a blender and blend until smooth.

Adjust liquid ratio according to taste and thickness preference (I like watery smoothies on hot days). Adjust banana levels according to sweetness preferences, honey would also be a good addition.
Notes
Feeling experimental? Try chucking in some cucumber and mint, and remove the cinnamon and you will have yourself a inflammation reducing smoothie cocktail!

What are your smoothie favourites?
---